We've all had that movie we completely underestimated when we first approached it. That movie we thought was going to be okay but wasn't a priority. That movie that ended up changing your life, the one that made you wonder why you waited so long to see it: The Surprise.
One of my dear friends had never seen the Lord of the Rings movies before, assuming they were silly and probably not her thing, but she sat through the first one with me anyway (partially because she's a saint and partially because I badgered her until she did).
The Lord of the Rings was The Surprise for her. She was never much of a fantasy fan, but there was something really special about the the storyline and the visuals that she hadn't expected to find there.
I've always been willing to give most fantasy movies and cult classics a try, but for some reason I had never gotten around to watching Heathers.
As a fan huge fan of Mean Girls, I was told that Heathers acted almost as a precursor to the film, that there were the same kind of social dynamics addressed, and that, like Mean Girls, Heathers validated the struggles of teenage girls. I was also excited to see that someone had turned it into a musical as well.
What I didn't expect was for Heathers to draw me in with '80s movie charm mixed with an irreverent and all-too-honest humor. The focus on murder and suicide was also a little bit jarring.
Heathers is an incredibly important film, putting some serious social weight behind its jokes. It addresses eating disorders and the way that we see food as well as body size as well as the way that our bodies affect how people see us.
"Grow up, Heather. Bulimia is so '87."
The film features a trio of beautiful, rich, popular girls that seem to run their high school. All of them are named Heather. Shannen Doherty plays Heather Duke, the bookish opportunist who's most often seen wearing green and most often victimized by Heather Chandler (played by Kim Walker), the group's fearless leader.
One of the first scenes in the movie shows Duke calling for help from inside a bathroom stall, after which Veronica (played by Winona Ryder) quips, "A true friend's work is never done" while wiggling her index finger. Although it's not shown on camera—thank god—it's clear that Duke is plagued by an eating disorder, one that makes the other Heathers tell her offhandedly to "Grow up, Heather. Bulimia is so '87."
The other Heathers don't take Duke's plight seriously, and even Veronica's suggestion that "maybe you should see a doctor" is quiet and only uttered while she files a nail. Duke reacts by looking uncomfortable, shrugging it off with a "yeah, maybe."
It's clear that Heather Duke will not be going to a doctor.
I know I was appalled when I saw that Duke's friends were barely reacting to her eating disorder, but for them it was a non-issue. In the context of the film, it seems as though Heather is expected to continue to purge if she wants to keep her already shaky spot in the Heathers' clique, and the dialogue suggests that she's not the only one dealing with this kind of issue. If bulimia is "so '87," then there must be other eating disorders in vogue at the time, maybe not even disguised as crash diets or cleanses.
The exaggerated nonchalance in these characters' attitudes toward eating disorders isn't just a product of the movie. Young women in our society are constantly inundated with images of skinnier and skinnier bodies that they have to aspire to, and they often resort to extremes to achieve that kind of body.
And while I'm willing to admit that movies have gotten a little better about including actors of all sizes, the majority of them are still incredibly skinny and, at the same time, actors with bigger bodies are still used as punch lines.
While Hollywood might still have trouble with body image, Heather Duke takes a turn after Heather Chandler's shocking death. Once the news gets around school, Duke starts stuffing her face with chicken. Her friends notice; Veronica jokes that she needs to "watch it" since she "might be digesting food there," and Heather McNamarra (played by Lisanne Falk) asks, "where's your 'urge to purge'?"
Duke's response?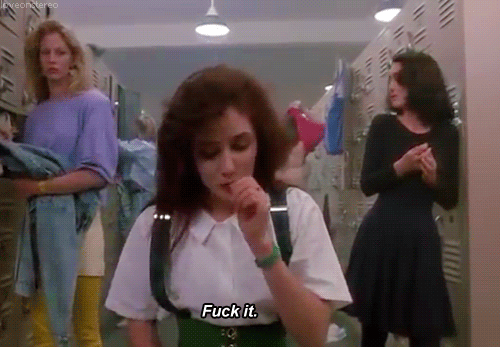 She says "fuck it," throwing away the chicken bone like she throws away her attachment to her eating disorder. Duke doesn't seem to care anymore about how food is going to affect her anymore. Heather Chandler isn't there to put that kind of pressure on her.
Duke was consistently scrutinized and picked, particularly by Heather Chandler, and with that girl's death, Duke feels able to eat freely. While it's not quite that easy to come back from an eating disorder, the sentiment is clear. Sometimes you just need to eat, whatever the consequences.
"You can live the dream or you can die alone!"
If Heather Duke struggled to stay afloat in high school, her classmate Martha Dunstock (played by Carrie Lynn) was virtually drowning. Stuck with the nickname Martha "Dumptruck," she's living proof that social hierarchies, especially those in high schools, rest uncomfortably and uncontrollably on the body. Martha doesn't interact with any of her classmates, sits alone at lunch, and is laughed out of the cafeteria when she tries to speak to one of the football players.
It's clear that while Veronica and some of the other students have the opportunity to get on the Heathers' good sides and move up in social status, Martha never has that chance. The Heathers even test Veronica by writing a fake love note from a football player and pressuring her to put it on Martha's tray. Veronica keeps saying that she doesn't have an issue with Martha, but since her friends think it's funny, she makes herself complicit in Martha's humiliation.
It's a minor moment, but the prank that the Heathers and Veronica pull on Martha illustrates how difficult it is to be fat in high school. Even Veronica, who has no issue with Martha, is willing to help make her life a living hell because she doesn't want to say no to the Heathers. The message is that it doesn't matter how you feel if you don't act accordingly; Veronica could have easily been Martha's ally, but it was easier for her to let her othering continue.
Veronica manages to get it right by the end of the film though. After watching her classmates die at her the hands of her boyfriend (played by Christian Slater) and desperately fighting to stop him from blowing up the school, it's a lot easier for her to put her values in perspective. She gives up on the school's social hierarchy, snatching the red scrunchie from Heather Duke and proclaiming herself the new sheriff in town before inviting Martha over for a movie.
By renouncing the Heathers' high school pettiness, Veronica is able to begin making amends for the harm she helped cause. She's not absolved of responsibility, but the movie ends on a hopeful note as Martha and Veronica walk away together, metaphorically into the sunset.
—Molly C.