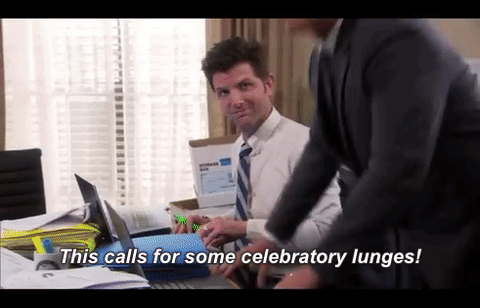 Just before the start of the semester, one of my friends on Facebook posted a status asking about where she should start if she decided to go to the gym. The flood of answers was enthusiastic, but there were so many different suggestions about classes and programs, and she'd never been to any of these classes so she had no clue which ones were for her. The comments were a flurry of times, dates, and suggestions of "come with me to this!" From where I was sitting, it looked a little overwhelming.
To be fair, the idea of exercise to me is exhausting itself, never mind actually going through with it.
I'm no stranger to getting active, of course. Although we were under no illusions about my chances of actually succeeding in school sports, my parents still took me to a myriad of practices and games for soccer and basketball when I was in grade school, bless them. I ended up dreading practices that would lead to games where my main role was bench warmer, and I scrambled for any excuse to skip them. I decided to love myself by letting go of sports and thought that would be the end of exercise, but falling in love with theater in high school meant dance practices at least two nights a week in the spring.
And honestly? I didn't try to get out of dance practice like I had soccer and basketball, but I thought about it more often than not.
That's a little messed up, right? These activities were supposed to be fun, but I was avoiding them as much as possible. And if sports were supposed to be fun, how was I supposed to actually start going out of my way to exercise without the added promise of being entertained?
So it was really easy to write exercise off. I mean, I walk to class every day, trudging over WKU's ridiculously steep campus hill; that's got to count for something. Plus, it would take way less effort to not go to the gym than to actually try it out.
But that's a bit of a defeatist attitude, so every few months, I'll look up a bunch of simple things that I can do to be healthy—maybe I'll take a walk or two outside before other concerns quickly become more of a priority and leave me with no further interest in exercise.
However, trying to keep up with yoga classes, little walks around campus, and having a set group of friends that are also trying to live healthier are a few things that are keeping me consistent and accountable for once, which leads me to the best part of this post: the concrete advice!
Terry Crews of Brooklyn 99, a very muscle-bound gentleman who's in "ridiculous shape" according to Men's Fitness, has some somewhat ridiculous advice that makes a lot of sense: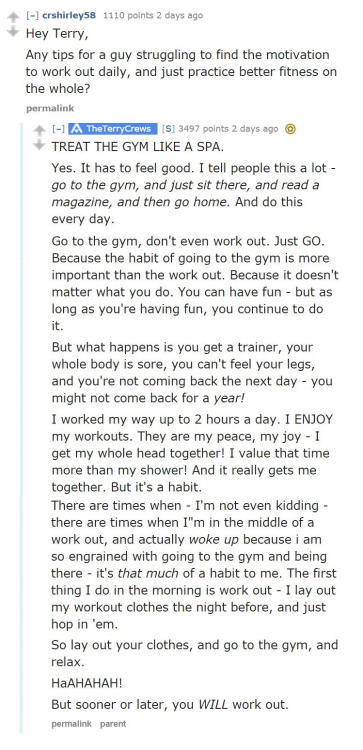 This advice might be silly, but it's also upbeat, positive, and potentially doable.
It always helps you form a habit when you're doing something that you want to do, rather than something you feel compelled to do.
So running on a treadmill might not be for you, but if you're like me and music gets you going, carve out some time to listen exclusively to One Direction or the Legally Blonde musical or that new Rihanna music and just move. If I've got the Take Me Home album playing, I'm going to end up bopping all the way to class without even thinking about it.
Be sure to look into all the classes that your gym offers because sometimes, let's be real, they're awful and most definitely not for you, but sometimes you can really surprise yourself. Yoga can be a pretty nonthreatening gym experience, and if you're still nervous, there's all kinds of information online that you can familiarize yourself with beforehand. I love the way that I feel after a yoga class, because even though there's a lot of effort involved, there's a focus on warming up and cooling down, and the instructor is often reminding us that we can go at our own pace while also giving suggestions for ways to challenge ourselves in whatever pose we're on. I cannot emphasize just how much I love yoga, so y'all should try it out.
There are also a ton of cool superhero workouts that people have posted online, so you can choose your favorite and go for that too if you are intimidated by more traditional workouts.
It also helps to get someone else involved. Tell people that you're going. Get them to come with you, especially if they're good at making exercise a priority. Having a pal can make things feel a lot less serious, and it keeps you accountable to each other as well.
Healthy means more than just physical health though, something guest blogger Natalie Rickman wrote more about in her "This is my brain on exercise" post.
Exercise can be intimidating, but there's a ton of things that you can do to make it easier. So focus on finding what works for you, even if it's just a little bit at a time.
—Molly Couch