Usually when I start a new show or look for a new movie, I try to gauge whether or not it's going to frustrate me too much.
There are some movie tropes that I absolutely adore despite how problematic they might be—for instance, the makeover montage, the mean girl's comeuppance, the pining best friend, and the musical number (thanks Ferris Bueller and Easy A!).
But there are a few things that end up being deal breakers for me.
If there's a diverse cast, queer characters, or even just a cast that's made up mostly of women, I'll look into it. However, I can't stand it when all the women hate each other or are competing for This One Guy who's actually not that attractive when it comes right down to it.
Or when two female leads are both drop dead gorgeous, but one of them isn't blond and has glasses so she's the one that's presented as undesirable or even ugly.
As a writer and an English major, I literally cannot stop myself from analyzing the media that I consume and support, and the more I do so, the more I realize that it's something we all should be doing.
To start with, Mean Girls is a great example of a film that offers a fascinating commentary on the struggles of young women as they grow up and learn to navigate the world, specifically in regards to dieting, diversity, and solidarity.
Mean Girls established itself as a cultural fixture not long after it was released in 2004. So much so that it's rare for me to meet anyone who hasn't seen the movie, and I can still quote almost the entire movie with the same tone and inflection that the original actors used.
It's easy to tell that the script was written by Tina Fey, who also plays a significant role in the film, as the biting wit and humor mirrors the very real issues that women—teenage girls in particular, mostly demonstrated through the main character of Cady (played by Lindsey Lohan)—face when trying to navigate the path to adulthood. Romance, friendships, school, work, beauty, body image, and self-respect are all addressed in different parts of the film, and while they're not always addressed perfectly, Mean Girls has a lot of really important messages to communicate.
One of those important messages is about dieting…
Despite being considered one of the most beautiful girls in her high school, the character of Regina George (played by Rachel McAdams) complains throughout the film about how she needs to lose a few pounds and keeps trying crash diets like juice cleanses, all-carb diets, or "weight loss nutrition bars." She is so obsessed with losing weight that one of the first times we hear about Cady's interest in math is when Regina is worried about the caloric content of her food.
While it's played off as a joke, this behavior and the references to "girls who eat their feelings" and "girls who don't eat anything" mirror the terrifying behavioral patterns that young women fall into while trying to achieve American beauty standards. The connection between eating disorders and dieting, while not stated outright, is made abundantly clear.
Additionally, after Regina says, "I really want to lose three pounds," she pauses expectantly for her friends to tell her—in what sounds like a rehearsed, ritualistic response—"Oh my god what are you talking about? You're so skinny."
But why is this comment necessary? What is so bad about not being skinny? Skinny doesn't mean healthy, and healthy doesn't mean skinny either.
Of course, Regina's skinny body—and the skinny bodies of almost all the main characters—send a message about which characters  have worth, about characters are valid. Most of the time, movies that are marketed towards young, American, and usually female audiences have a thin lead actor and a cast full of similarly skinny actors. The movies and television shows that follow this pattern all send the message that the only stories worth telling are about skinny people.
Janis (Cady's best friend played by Lizzy Caplan) also identifies this conception of a thin female body as a "hot" body—with "hot" in quotation marks—as she maintains that Regina has a "technically good physique."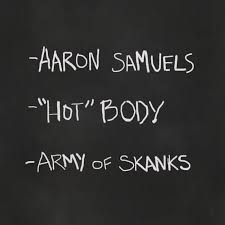 It's striking to see the way that Janis writes hot with quotation marks. It seems that in doing so she recognizes the way that hotness is constructed rather than inherent and that Regina's shape and size have a lot to do with this concept of hotness.
In recognizing this pattern, the girls in the film are able to exploit it for their own agendas. During Janis and Cady's plan to sabotage Regina, they give her nutrition bars meant to put more weight on her and recommend that she eat all kinds of food that could do the same.
It's honestly really depressing how much Regina's weight gain affects her. It's difficult to tell that she's gained weight just by looking at her (and maybe that's the point), but the other characters make sure that the audience is in on the joke when they laugh at Regina after she puts on a few pounds.
That's always how it happens, isn't it? Other people feel the need to comment on your weight in real life, and this truth is demonstrated in the film as the others make jokes both behind her back and to her face.
At one point, she even tries on a dress that she'd put on hold only to find it no longer fits. While this scene is mostly there for laughs, the moment is actually heartbreaking. There are few things more discouraging than going shopping and finding that the clothes you thought would fit don't anymore. This is the moment in Mean Girls when the comedy becomes all too real.
Another important message in Mean Girls is about diversity…
The majority of the cast is female, and the fact that this is something that we need to celebrate is a little bit sad. But stories like these are essential: stories about women, by women, and for women, stories that acknowledge the limitations that popular culture and the powers-that-be place upon us. These stories can expose and criticize these limitations by pointing out how gender roles and stereotypes consistently devalue women and their contributions to the world around them.
The movie also features a few people of color, such as the principal, some of the boys on the Mathletes team, and others in more minor roles.
Furthermore, women of all body types are featured in the film as well. Tall girls, short girls, skinny girls, chubby girls, and even a girl in a wheelchair. Some of them even look like they're actual high schoolers instead of just hot twenty-something actors.
In these ways, Mean Girls does an excellent job of being inclusive and showing a more accurate picture of the world we live in than most teen movies.
However, one thing that's always bothered me about this movie is the treatment of queer characters.
Damien (played by Daniel Franzese) is very obviously a gay man, but most of the time it seems as though he's played off as a joke. And he doesn't get the typical teen movie happy ending—a romantic partner—which sets him apart from the other main characters: Janis who ends up with a boyfriend and Cady who finally wins over Aaron Samuels by being herself.
Additionally, the rumor that Regina started about Janis that sparked Janis's resentment back in middle school was that Janis was a lesbian. Not only did Janis vehemently deny that accusation in the past and not want to mention it to her new friend Cady in the present, but it's also implied that she was severely hurt by the rumor as well as being ridiculed and isolated because of it.
And in the end, it's all treated like a big joke that Regina made, brushing off the major impact of the rumor and ignoring the harmful message that it sent.
Sure, Damien is allowed to be the token gay character—albeit a flat one without his own storyline—but the thought that a straight person like Janis is called a lesbian is laughable, even unthinkable. The implication is that there is no worse insult than calling someone gay who isn't.
This movie came out years ago, so I suppose that this kind of homophobia is a smaller problem in the grand scheme of things, but it's important to note that there's definitely room for improvement.
Finally Mean Girls says something important about solidarity…
In a somewhat cheesy speech toward the end of the movie—even the principal tells Cady that a speech isn't necessary—Cady reinforces why girls fighting amongst each other is the worst thing we can do. During the speech she makes sure to compliment the girls who aren't considered pretty by "Plastic" standards, girls who are chubby or disabled or isolated, and in the same speech she equates all the girls with each other, no matter how pretty or popular people think that they are. Cady says:
"I mean, I think everybody looks great tonight. Look at Jessica Lopez! That dress is amazing, and Emma Gerber that hairdo must have taken hours and you look really pretty. So why is everybody stressing over this thing? I mean it's just plastic, it's really just [she breaks the crown and starts passing it out]. A piece for Gretchen Wieners, a partial Spring Fling Queen. A piece for Janis Ian, and a piece for Regina George. She fractured her spine and she still looks like a rockstar, and some for everybody else."
The breaking of the crown represents Cady's final denial of an unattainable ideal. Talk about a powerful moment. She's literally taking a symbol of feminine power, breaking it down, and distributing the power to all the women around her, empowering and uniting all the girls who now share ownership of the crown.
Mean Girls might seem like typical teenage comedy, but it's really important to emphasize messages of female solidarity, and Cady's speech does just that. The "divide and conquer" approach is a legitimate strategy to weaken a group of people since they can't organize and challenge authority or an opponent if they're fighting among themselves. Women share common struggles, so why shouldn't these same struggles bring us together instead of allowing petty competitiveness to keep us apart?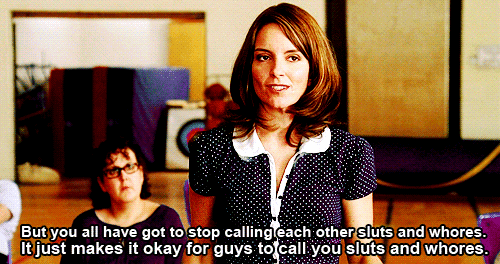 Say what you want about Tina Fey, but this teen movie has become iconic for quite a few excellent reasons… it's quotable, it's hilarious, it's relatable, and, most importantly, it speaks to issues central to being a woman. I cannot stress how refreshing it is to see an articulation of the struggles that women go through and have them treated as relevant difficulties, even in a lighthearted manner. No, it's not a perfect film, but it's just as important to celebrate what is working as it is to be critical of what's not working.

—Molly Couch