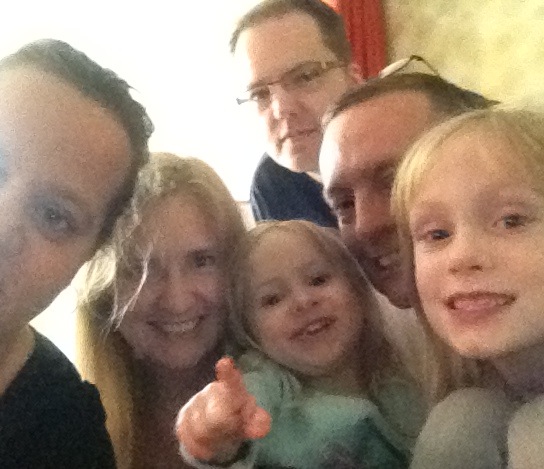 This week is spring break for many elementary, middle, and high schools around the country.
That means many things for me… I don't have boot camp (translation: I feel more sluggish and moody than normal—ask my husband if you don't believe me), I get to have one of my local friend's teenage daughters visit my college class (woot!), and—most notably—one of my oldest friends is visiting with her whole family including her husband and two young daughters. (You can see all of us in the picture above.)
Since we don't have kids ourselves, one of the great joys of our lives is spending time with other people's children.
I imagine that if we did have our own kids, we wouldn't appreciate our nieces and nephews and friends' kids as much as we do. We'd probably want to get away from all of the shorties and have more adult time. But when you're childless, being around kids is that much more special.
Probably one of the things I love most about hanging with the little people is that they have no guile about them. Even the teenagers—those strange in-between creatures who are enigmatic and overly frustrating to their parents—are still fairly open and honest with other adults.
Sure, kids can be too honest sometimes—and tell you that you've worn that shirt too many times or shake their heads disapprovingly when you try to get one more day out of that '90s pantsuit.
But they are also just as forthcoming about what they love about the way we look—playing with our curly hair as if it is gold, trying on our strappy sandals from Macy's like they are Jimmy Choos, and gently touching our costume jewelry as if it came from Harry Winston.
And it's not just the superficial stuff they love either.
They love us for who we are—they love our womanly curves, every last pound of them—and stare at us with so much genuine appreciation sometimes that it almost makes me want to cry. Because, in their eyes, we aren't the people who used to be twenty or thirty pounds thinner or the person who didn't always have smile lines and crow's feet. We are the people who talk to them for hours about their turtle, the people who swim in the hotel pool with them after bedtime, the people who play tic-tac-toe with them even if we can never beat them at their own game.
We are the people they love just the way we are.