My first job out of high school was in a day care facility. I was working 40 hours a week taking care of children, most of whom were under five years old. On my first day I worked with tiny babies that I was almost too nervous to hold, freaking out when I couldn't get them to stop crying. On my second day I was put in charge of a class of 10 three-year-olds, and when I went home, I apologized to my mom for everything that I'd done when I was three.
So please understand that when I say, Moms are amazing, and I honestly have no clue how they do it, it's about a thousand percent sincere.
The thing about mothers, and parents in general, is that they're responsible for an entire other little person.  It's their job to make sure that their child is happy and healthy and well adjusted, which is  probably both terrifying and overwhelming. While some of the expectations of motherhood are unreasonable and wrapped up in sexism and heterosexism (such as having to stay at home, be married to a man, or be married at all), there are plenty of good reasons that mothers are seen as these paragons of wisdom and as warm, caring, and nurturing beings.
It's because children need that kind of care.
So when a protagonist on a television show goes to her mother for advice because things are at their worst, we understand our young hero's need for that unique, motherly guidance, advice that will help her make the best decision and remind her of the unconditional love that a mom can offer.
However, the way kids rely on moms means the messages we get from them are going to shape us, for better or for worse. No parent and child relationship is perfect, but since such a powerful (and often long-term) relationship carries so much weight, it's important to do whatever we can to communicate the right message.
Your mom can be your biggest ally or your biggest source of insecurity.
I'm not the first person to say this, but sometimes if you have a lot of positive interaction with your mother but also hear maybe one or two negative comments from her—whether it's on your appearance, your work, or your opinion—the negative comments are going to be the ones that stick. I mean, I adore my mother, and we've been close my entire life. I can't begin to count the number of times that she's been incredibly kind and loving and understanding, but that's not always what's going to stick with me after I see her.
Sometimes these messages are really subtle, and as a result, half the time I'm wondering if I'm reading too much into them. But when I come home from college to visit and my mom asks me about whether I'm going to the gym and eating right (in between actual questions about school), I get incredibly self-conscious, especially when I know that I've gained weight. Even if I haven't been paying attention to my weight (the most truly blissful times in my life), questions like that make sure that it's on my mind again.
I've had friends with similar experiences, including moms who ask if they've lost weight when their moms obviously know they've put on a few pounds, or moms who complain one minute that they're not eating enough while commenting on how tight their clothes are the next minute.
Even growing up with parents who repeatedly new diets meant that, as kids, we learned just how important it is to not be fat, even when doing so requires a lot more trouble than necessary.
A few times, well-meant motherly criticism gone awry is a little more obvious. I've never been one for makeup, but when my best friend and I first tried playing around with it, I got really excited about the gold glitter eyeshadow because it was pretty. When my mom saw us messing with it, she told me I looked like a five-dollar whore. Now, I wasn't as worldly and street smart then as I am today, but the way that she said it was wholly disapproving, even if it was a joke, and even though I didn't quite understand what it meant, it made me incredibly uncomfortable. I didn't really touch makeup after that, sticking to the bare minimum for stage makeup in high school and finally trying to figure out makeup for myself in more recent years.
This isn't to say that moms are like Disney villains who cackle and wring their hands, messing with our ideas about body image rather than locking us away in a tower. But it is important to analyze our beliefs, especially since we will eventually pass them on to our children whether we mean to or not.
My point is that mothers need to be really aware of what they say—especially about bodies—and how they say it, especially to their daughters. We all need to consistently take stock of and interrogate our thoughts and beliefs to make sure that our influence is positive, and this is particularly true when it comes to mothers. One of the greatest relationships that any child, especially a young girl, can have is with her mother, and by focusing on building each other up (and maybe subtly deconstructing sexist and exclusively skinny-focused messages in our culture), we can create positive relationships and stronger people.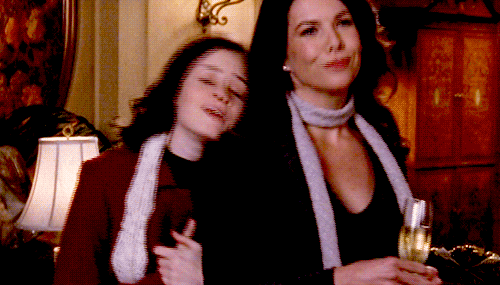 —Molly C.