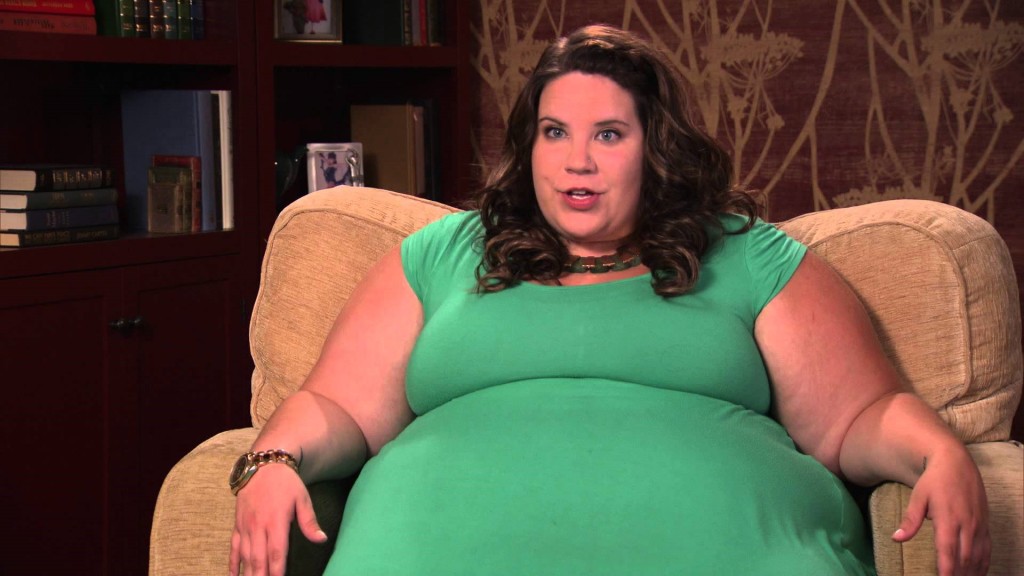 Okay, maybe you've seen this show, maybe not. But what I'm sure you have seen are the people getting angry about this show.
It glorifies obesity!
It promotes an unhealthy lifestyle!
It just shows how far America has fallen!

But, okay, let me take a minute here to say that none of that is true.
First of all, if anyone is "allowed" to be fat (and Jesus Christ, it's not like it's a crime), then the star of "My big Fat Fabulous Life" is. Whitney Way Thore rapidly gained weight as a result of Polycystic Ovary Syndrome, a disease which, as a side effect, makes weight loss extremely difficult. Her obesity is not a result of some hedonistic lifestyle where she just shovels mountains of food into her mouth constantly. The show, in fact, chronicles her attempts to stay active and involved in dance, which was one of her passions prior to her illness.
Also, this is hardly the first show to feature a fat woman, and fat women are hardly an American invention. For instance, My Mad Fat Diary, from the UK, is a great show about an obese teenager. (Really, it's fantastic. Watch it.)
So… it's time to get to an awkward little wrinkle in this blog post, which is that I kind of hate My Big Fat Fabulous Life.
I know! I'm sorry! I just don't think it's very good!
Like, man, I want to be supportive of fat ladies being on television, but man do I not like this show.
And it isn't bad because of some inherent badness associated with a fat woman being on T.V. It's just bad in the same ways that a lot of reality T.V. shows are bad. Like, the issue that things are pretty obviously staged, but the people on the show aren't good enough actors to convince you that they're not staged.
And it straddles that uncomfortable line between reality T.V. and like, outright creepy voyeurism for me. Like, there's gonna be a special where her fans pick a tattoo design for her, and she'll get the tattoo done on live T.V.. That's weird to me. That's not quality television!
Plus, gonna be brutally honest, Whitney is kind of annoying. I watched one episode of this show for research purposes, and the whole time I was like "Oh my god shut up."
But, goshdarnit, I will fight to the death for this show. Because Lord knows there are plenty of other crappy reality shows out there, and if you think that The Bachelor doesn't promote an unhealthy lifestyle, then you are an incorrect jerk.
And this all ties into something else I've been thinking about. You remember my whole post about comic books and how they're pretty much the pits when it comes to female characters?
Well, I recently read a comic called Lumberjanes, and this comic had it all… Female writers! Lesbian couples! A variety of body types!
So I read it, and… I didn't like it that much.
I mean, like, it was okay? There wasn't anything really wrong with it, but it just didn't really WOW me, you know? It wasn't quite my thing.
I think the issue we're facing here is that the viewing public puts a lot of pressure on any media that tries to do something new or represent an underrepresented group.
Like, if people don't like a Batman movie, nobody ever says it's bad just because the lead was a white guy. Nobody who criticizes it is ever accused of hating white guys. It's bad because the director was bad or the actor was bad or something else went wrong with the movie-making process.
But if people don't like a Wonder Woman movie, it's because people don't like movies about women! Duh!
So every movie or reality show or comic book that takes the risk of representing an underrepresented minority is stuck in the shitty position of essentially defining that minority for the viewing public. So if they aren't absolutely AMAZING, then they've failed at some imagined moral obligation to be incredible. Like, a standard action movie is allowed to be mediocre, but if a comic book about lesbians is bad then it's either failed feminism on the whole, or it's impossible for anyone to criticize it without the fear that people will think they're just criticizing lesbians.
I think the issue here is that representative media is stuck in this binary where it's either good representation or bad representation, and it means that we can never appreciate the work on its own merit. Everyone's analyzing My Big fat Fabulous Life based on how well it represents fat people, rather than how good it is at being a show in general. And I think part of this is just from the desperation to have a good show about a fat woman! Everybody's a little afraid to admit that they don't like it, just because they so desperately want it to be good.
To me, "Lumberjanes" is good representation, but the story is missing something. And it sucks that we can't just appreciate these works on their own merit, and instead have to overanalyze every aspect of them in the interest of examining how well they represent something.
So if My Big Fat Fabulous Life fails to entertain me, then it is not due to an inherent failing of fat women to be entertaining. If "Lumberjanes" wasn't quite my thing, then it's not because comic books can't be about strong women. I am not a bad person for not enjoying these things, and neither of them have set feminism back just by being kind of less than okay. If anything, we have to have these middle-ground shows and comic books so that they can establish a norm in which fat women are allowed to be on T.V. and lesbians are allowed to be in comics.
And if they aren't perfect? They deserve credit, if nothing else, for shaking up our monotonous media a little bit.
—Rachel Sudbeck