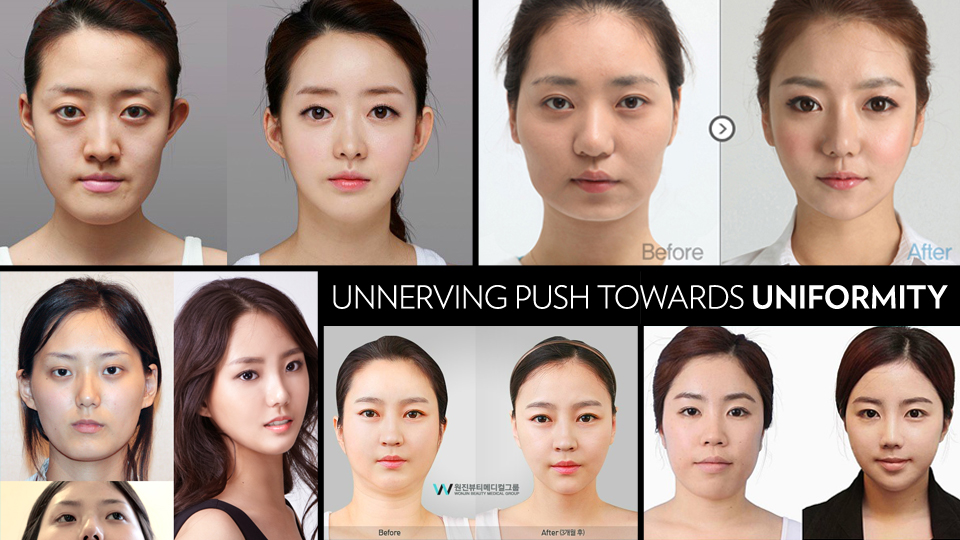 We all know about the dangers—emotional as well as physical—of plastic surgery: not only is surgery always a serious undertaking (several high-profile women have died during plastic surgery), but plastic surgery also hurts our collective psyche by sending the untrue message that we can look perfect and young forever. And also that doing so is desirable.
Yes, we all know these things to be true.
But when I saw the photos above—photos of young Korean women before and after plastic surgery—and read about how common it is for such women to have work done, I became alarmed.
According to Jezebel's Dodai Stewart, South Korea is "the country with the highest per capita rate of plastic surgery in the world. One in five women in Seoul have undergone some kind of procedure." This fact is perhaps best evidenced by the fact that there is now a Tumblr blog devoted to before and after pictures of Korean plastic surgery.
But it's not just the commonality of these procedures in Korea that is alarming to me. It's how radical the changes are.
As Stewart explains, "There are a few things unsettling about the images, especially the ones in which the entire shape of the face is changed thanks to bone shaving. Somehow eyelids and nose cartilage still seem rather surface-level, whereas changing the shape of your skulljust feels extreme and intense. And what about the parents of these men and women? Are they sad when their offspring, whom they've created from their own genetic material, change the jaws and eyes and noses given to them by their mother, grandmother, great-grand-mother? Or maybe the parents have already had their bones shaved, or paid for the kids' surgery, or would if they could."
Seeing these images and thinking about people who are willing to change everything about how they look—to indeed look like a different person, to look unrecognizable—reminds me of an episode of The Twilight Zone I saw when I was growing up.
In the episode, once a young woman became a certain age—around sixteen—she would go to a showroom and pick out her new self—a new body, a new face—from a handful of options. Then when the appropriate time came she would be undergo a procedure that would transform her into this new self. The result was that the young woman we followed in the episode became completely unrecognizable to both herself and to the viewer. At the same time, it meant that there were only four or five ways a woman could look, making society, at least female society, incredibly homogenous.
I've always been one of those people who has resisted making myself look different—I always hated playing dress-up when I was a kid and still don't like wearing a costume on Halloween. And I was probably the last person I knew to start wearing makeup. And maybe the reason is because I am uncomfortable being someone I'm not. And this is why I cannot fathom why a person—female or male—would want to drastically change the way she or he looks.
Sadly, I fear I am probably in the minority on this one.