I was really looking forward to the Olympics this summer—I took gymnastics classes for many years as a kid and though I was never any good at it—despite a triumphant fifth-place ribbon in vault one year—I still love watching women's gymnastics during the Olympics.
And, of course, this year was especially exciting for women's gymnastics because the U.S. team was favored to win the gold, which they did with impressive intensity and focus Tuesday night.
But almost as soon as the Olympics started, so did the misogyny.
Let's recap: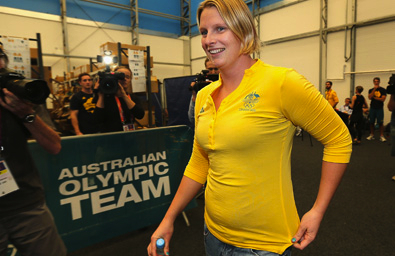 1) First the Herald Sun, a newspaper in Australia, asked the question whether or not 26-year-old Olympic swimmer and eight-time Olympic medalist Leisel Jones was fit enough to compete, printing this picture with their story: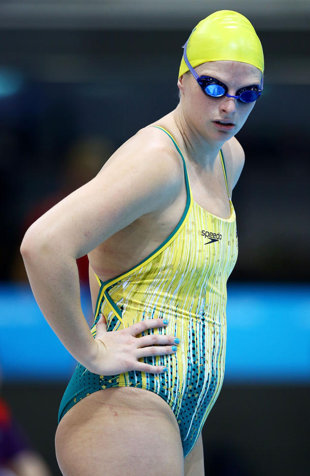 Jones had already made the Australian team, leaving one to wonder why the Herald Sun would raise a question that had obviously already been answered: of course, she was fit enough because she made the team!
It's interesting to me that as Michael Phelps returns to the Olympic pool, he's regarded with an air of reverent nostalgia—It's okay if Phelps doesn't always win because he's already a champion!—but Jones is not getting the same treatment. He's Olympic royalty, but she's the "fat" girl at the prom.
*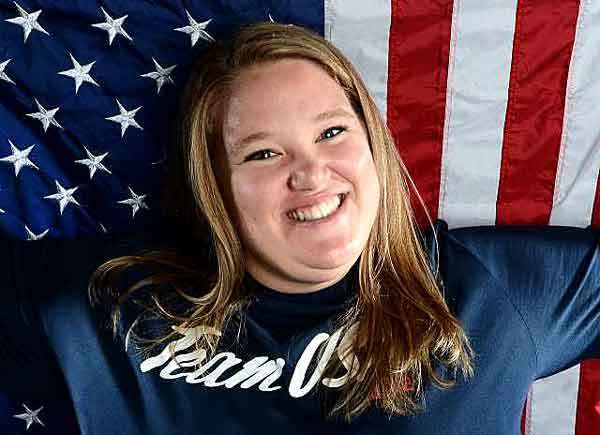 2) Then, several media outlets—including the Chicago Tribune, the Los Angeles Times and New York Magazine and no less than Conan O'Brien—insulted Olympic weightliftter Holley Mangold's body by joking about her weight, taking cheap shots at her physique and her appeal to men. New York magazine actually begged her not to hit them—you know because she's so big—while the Chicago Tribune talked about fluctuations in her weight and "an L.A. Times story couldn't resist mentioning 'the small Ohio town where she grew up — with an emphasis on the word 'grew.'" And O'Brien went to a new low when he tweeted that "I predict 350 lb. weight lifter Holley Mangold will bring home the gold and 4 guys against their will."
This will date me, but when I was growing up, Chicago Bear William "Refrigerator" Perry was respected for his weight since it allowed him to occupy two blockers at the same time. I'll never forget how shocked I was by this. Yes, they made fun of Perry's size to some degree, but ultimately, he was seen as more of an asset than a joke.
As a teenager who believed that I had to be thin to be happy, this perception of Perry blew my mind. But even though, twenty-five years later, the same could be said of Mangold—it's her weight that allows her to be an Olympian—the media is more focused on making fun of her than giving her credit.
*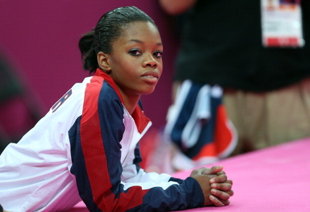 3) Finally, social networkers went after Gabby Douglas' hair after she won a gold medal competing for the U.S. in the women's gymnastics all-around competition, saying she needed a "hair intervention" and asking why no one wanted to go to London to do Douglas' hair. One Facebook user said she looked at Douglas' hair and asked "Why, just why?"
If I have to explain to you why it is disgraceful that people are discussing Douglas' hair after this talented and courageous young woman won a gold medal at the Olympics, then I give up.
*
Don't get me wrong: the Games themselves have been great for women in numerous ways, featuring more women in more sports and including a woman on every single Olympic team.
But there's something strange to me about the fact that this achievement comes with a heavy price—more women competing in the Olympics seems to mean more women to ridicule and judge rather than more women to laud.
Why is that?
Maybe it's because of the age-old fact that our patriarchal society is still threatened by strong women.
Still, I want to believe that our society has become more open to women—after all, this year we have more female Olympians, our third female Secretary of State, and a female CEO of Yahoo.  Doesn't that mean women are finally be taken seriously?
According to some of the above posts, maybe not.
I used to watch the Olympics with my parents every year when I was a kid. We dutifully watched the various events each night (including women's gymnastics, of course), but the opening ceremony was the biggest moment of the Games for us.
We would all gather around our pathetic 19-inch color television set and stare in awe as people from incredibly diverse parts of the world walked into a massive arena in perfect harmony. No matter how different they all were, they all entered with the same sense of pride and the same respect for the Games.
My parents used to take that opportunity to talk to us about diversity—not only about cultural differences, but also about class differences, especially how some countries couldn't afford to train and send as many Olympians to the Games as the U.S. could. They wanted us to understand that, as Americans, we were luckier than most, privileged even, while also wanting us to learn the importance of empathy. It was a lesson that has stayed with me all these years and helped shape who I have become as an adult.
It is my hope that the parents of today—the people of my generation—will do the same with their children during this and future Olympic Games. I also hope that they will encourage their kids to show respect to both male and female Olympians—just as they should with anyone—and not take this opportunity to trash these superheroes online just because we now live in a world where anything goes on the internet.
There's still more than a week of the Olympics left. It's not too late.