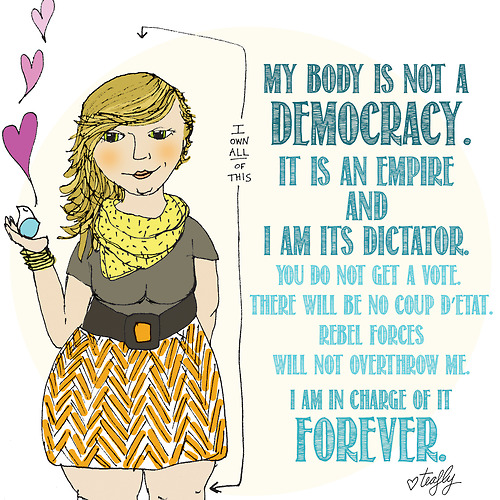 As I mentioned in my very first blog post, I've always struggled with maintaining a healthy weight for my height and age. For this reason, it was never a shock to me when my doctor told me I should put on a few more pounds.
He even advised that I not attempt any sports—back in high school—until I could manage a healthy weight. I was always so confused because I ate all the time. What I didn't realize is that I wasn't eating the right things. I was trying to fuel my body with fatty foods and carbs to try and gain the weight that my body needed.
I didn't really start to worry about my size until I was sixteen and still wearing pants that were a double zero size. I couldn't begin to count all the times that students and teachers told me I looked sick or asked if I had an eating disorder. I was offended—how could someone just look at me and decided, according to my size, that something had to be wrong to me?
I was five-foot-four during my four years of high school, and I weighed about 105 pounds with a BMI that was less than 18.5. According to my family doctor, I needed to weigh between 110 and 115 pounds to be "healthy."
You might think that five pounds isn't that hard to gain and keep on, but, for me, it was impossible. It didn't matter what I ate—my weight only ever went down. And as a young teenager, I didn't have the patience to worry about how much I weighed. I would have much rather stayed inside reading any day.
But then something really surprising happened; as I gave up on trying to gain weight by eating literally anything I could, I started to go up in pant sizes and found that my arms weren't as thin as my bones anymore.
That's when I realized that when we panic and stress about the shape of our bodies and internalize the scrutiny of others, it becomes more difficult for us to achieve our weight goals.
By the end of my freshman year of college, I had gained roughly ten pounds and was wearing a size two. My doctor didn't say a word relating to me being underweight and hasn't for three years. Why? Because I stopped caring.
I started eating my fruits and vegetables, which I love. I eat whole grains even though I love white bread. And I make sure to get fiber into my body, which seemed to be missing for most of the rest of my life. Not everything I do is completely healthy, but I've stopped eating junk and filling my body with grease and sugar.
What I learned from all this is that it's pretty much impossible to be healthy when we are pressured by others to do so. Instead we have to come to the conclusion ourselves that we want to be healthy before change can happen.
If you become friends with your body, then giving it what it needs becomes not a chore, but a privilege. Sure this may sound cheesy, but you're with your body for your whole life life, so why not cherish it?