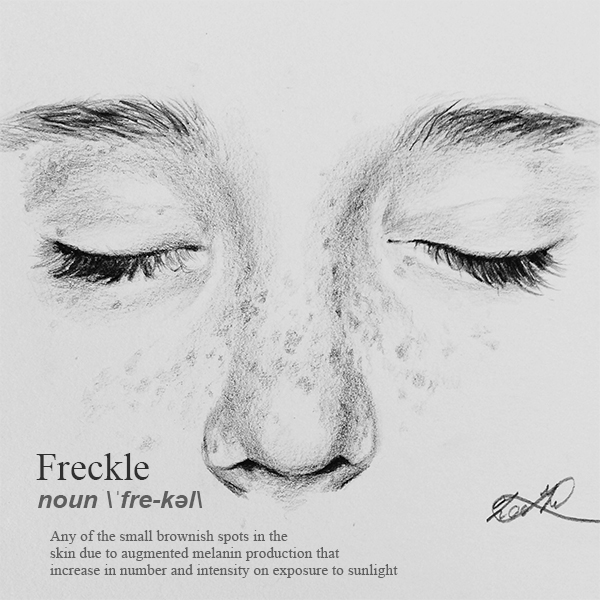 I got my first freckle when I was almost nine; I had noticed it on the left side of my chin. My first case of denial was born; I didn't want freckles. I wanted to have clear skin like the numerous models I had seen in make-up commercials.
Since I was still a kid, I had never paid attention to the fact that everyone in my family was covered in freckles. Especially their arms. When I finally did notice, I was terrified. I couldn't tell you a specific reason why freckles scared me, but I knew I didn't want them.
Skip ahead to when I was thirteen: the dreaded puberty began, and so did the agglomeration of freckles. My arms were targeted first and then my face. For a long tome I had a bridge of freckles that traveled from one cheek, across my nose, and to the other. It sure wasn't the way to make me feel pretty. I hated them, and I hated when people would point them out and call them cute. What was cute about freckles? The way they made people stare? No.
When I first started experimenting with make-up about a year later, I discovered concealer, but to my dismay it refused to work for freckles. Still, I was determined to make them disappear. I wanted my skin to appear smooth and free from any sort of discoloration.
But what I didn't know then was that I was doomed from the start. They just kept appearing, and eventually I started to lose track of how often new ones would pop up. Before I knew it, I was covered from head to toe.
Yes, they are even on my feet. Weird, I know.
And my upper lip. I literally have a freckle mustache.
The strange part about it all? I started to be okay with it. I suppose once you're forced to deal with something for so long, you learn to accept it. And the thing is, no one really cared that I had freckles. It was just me. And now, at almost twenty-one, I wouldn't want to look any other way.
I love my freckles. To be honest, they make me feel pretty. I think they draw out the better things about my face, and without them I  wouldn't recognize myself. They have become an integral part of my identity. I smile when I see them, and while it took me a good amount of time to get to this point, I can honestly say I'm happy to be here.
Embrace the freckles.