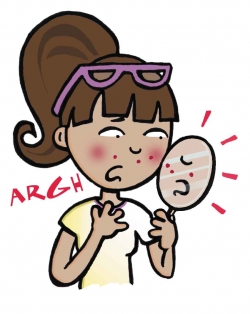 When most people hit puberty, they develop acne. We are told, by doctors, parents, and those much older than us, that it's a part of growing up and that "it will go away."
But for some of us it doesn't go away. And unfortunately that's been the case with me. Sure, it's not as severe as it was when I turned fourteen and started high school with a face full of little red mountains of fury (gross, huh?), but now that I'm in my early twenties, I've noticed that my skin does more than just break out—it's dry and/or red in certain areas, and it's discolored from past acne. Also, there's more hair growing on my face.
All I do when I look in the mirror some days is frown. Shouldn't my skin be at it's prime when I'm entering my twenties?
I can't even begin to explain how many times I've looked up remedies for blotchy skin or those damn blackheads that never want to leave. Pinterest has provided me with more than enough information, which I never seem to try. Why is that?
I wonder if maybe it's because I don't want to be one of those people who blow through tons of money trying numerous products filled with chemicals that could do more harm than good. Instead, I'm trying a new approach that allows I'm comfortable with my skin and accept that it's flawed. After all, it was flawed when I was young, it is now, and will obviously be when I'm older.
I see far too many celebrities who still look 30 when they're more like 50 or older, like Cher or Madonna, and it makes me feel slightly uncomfortable. 

They're talented, yes, but I can only imagine what they have to do on a daily basis to keep that flawless skin. To me, that seems like much more trouble than it's worth. What's going to happen when the inside of their bodies: heart, lungs, liver or kidneys, doesn't work anymore and they can no longer take care of their faces? I hope that they are taking care of more than just cosmetics. Isn't it important for us to take care of our entire bodies and to accept that one day we will look older? It doesn't mean that we won't or can't be beautiful.
I'm not saying I don't take care of my skin; I do. I wash my face daily, remove my make-up before bed at night, and moisturize to keep the dry and flaky patches at bay. But I'm tired of fighting my skin and feeling like I'm in a losing battle.
Recently I tried something I've never been able to do before. I had gotten one of those really big red bumps right beside my nose and couldn't touch it without making it have a heart beat, so I left it alone. Yeah, my behavior surprised me too. But it also helped me realize that I can have some acne and be okay with it and the way I look. Self confidence is literally just that. Self. I realize now that as long as I'm okay with it, then being imperfect doesn't really matter.
—Brittany Eldridge