The Sochi Olympics finally wrapped on Sunday, but I have a feeling that we won't be forgetting the highs…
       • Tara Lipinski's and Johnny Weir's swag-fabulous coverage
       • Adelina Sotnikova's you-can't-look-away skating
Or the lows…
…any time soon.
As much as I fear the reprecussions of admitting this, one of the lows for me had to do with the American figure skaters, specifically the female figure skaters.
No, I don't care that they didn't medal—they all skated well and made the U.S. look good by finishing in the top ten.
And, no, I don't think there's any big controversy behind the scoring.
(And I'm kind of horrified that everyone keeps challenging who won which medals—both in the women's figure skating competition and in the pairs dancing competition. If Americans don't think judges have been biased about scoring figure skating for years, then they've probably been munching on too many of the brownies their friends from Washington and Colorado have been mailing them. Also, it sounds more than a little like sour grapes.)
But what I do care about is how we, as Americans, present ourselves to the world.
And that's why I was kind of horrified by how insanely alike all of our female figure skaters looked in Sochi—they were all white, they were all blonde, they all wore heavy makeup, and they all wore enough sequins that if they stood together in a line Sandra Bullock could probably see them from space.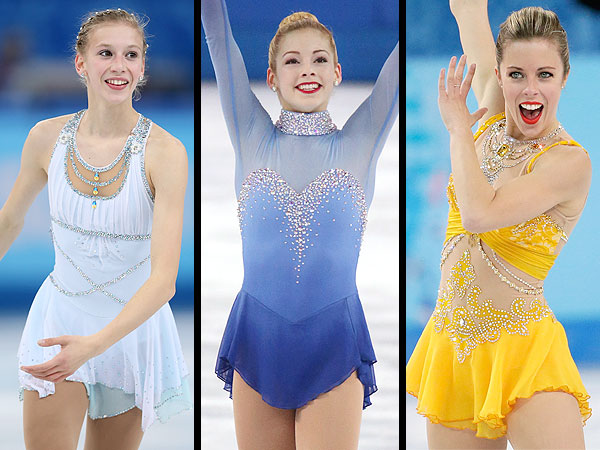 It was as if they'd all been made in the same Disney princess factory, which really frightened me.
(In case you didn't watch, no, the other female figure skaters did not all look this way.)
It frightened me because it made me worry that viewers around the globe would think all Americans want to look this way—and that we all want to be the same and/or that we only value one kind of beauty, a message I've been trying to counteract for years.
It also made me wonder—do these young women look so much alike because more and more young American women want to look the same???
I probably don't have to tell you that idea truly terrifies me.
(And, no, it doesn't matter to me that plenty of the American skiers and hockey players proved otherwise because, let's be honest, the majority of viewers only tune in for the individual figure skating.)
I know my comments here today will likely ruffle a few feathers—after all the body acceptance movement is about accepting ALL bodies, not just the ones I want to emulate—but I'm not criticizing their bodies. I'm simply challenging their lack of individuality and the idea that we all have to look the same.
And I'm really hoping that in the 2018 Olympics I'll be able to cheer for the American figure skater who doesn't look like a cross between Kate Hudson and Cinderella.