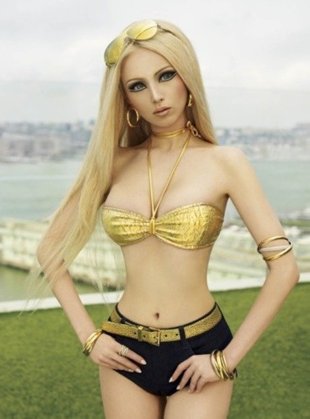 Whenever I start to feel down about the way I look, I stumble upon something that makes me feel better about being regular old me.
I'm at that point in the semester now when I have no energy left to be positive, so I really needed something to remind me how much I like being me. And I found just what I needed in the form of the Human Barbie.
The Human Barbie (pictured above) is a real person. Her name is Valeria Lukyanova, and her goal is to look like a human Barbie doll.
Yes, that's right, this woman wants to look like a doll that we all know has proportions and attributes that are unattainable to humans.
But that hasn't stopped Lukyanova, who hails from the Ukraine, from going after her dream of looking like a cheap plastic doll. Though she won't confirm it, experts believe Lukyanova put herself through extreme plastic surgery (probably removing some of her ribs to make her waist look smaller, getting injections in her lips and implants in her cheeks, narrowing her chin and nose as well as enhancing her breasts to mimic Barbie's unrealistic measurements). She also partakes of a rigorous makeup routine, using theatre makeup, eyelash extensions, and colored contacts to create her Matel-like looks.
We know that "if Barbie were a life-size woman, her measurements would be 32-17-28. Dr. Athony LaBruna, the director of Manhattan Plastic Surgery explained in detail as to what all needs to be done to transform a living human body to look like a plastic Barbie doll." LaBruna explained that "'A women needs to get breast enhancements to be a 38DD and cut some ribs out to get an 18″ waist, make the hips wider and change her face.'"
It appears that Lukyanova has followed these instructions to a T. This is especially obvious in these before (left) and after (right) pictures: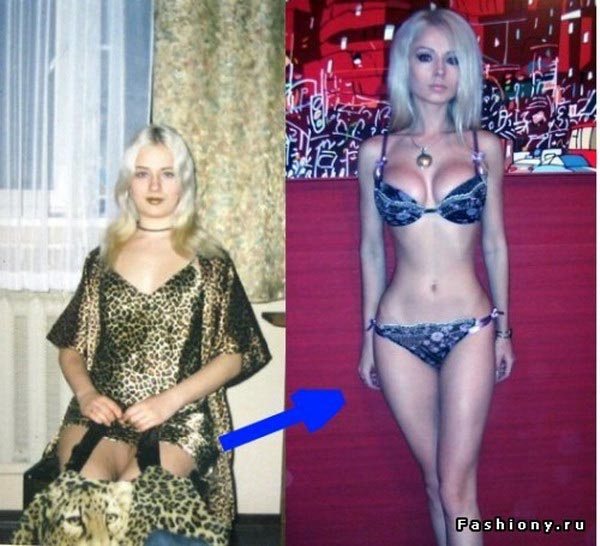 Lukyanova now measures 34-18-34, not quite as un-human as Barbie, but pretty close.
This raises the question, what does one do once one achieves the goal of becoming a human Barbie doll? Well, what else? One makes YouTube videos to document her doll-like qualities.
I'll be honest, Lukyanova's attempt to transform herself into a living doll is as unappealing to me as anyone who tries to transform herself into something she is not. In fact, Lukyanova looks just as disturbing and unattractive to me as Michael Jackson's sad transformation over the years…
or that person who is having himself made over to look like a cat…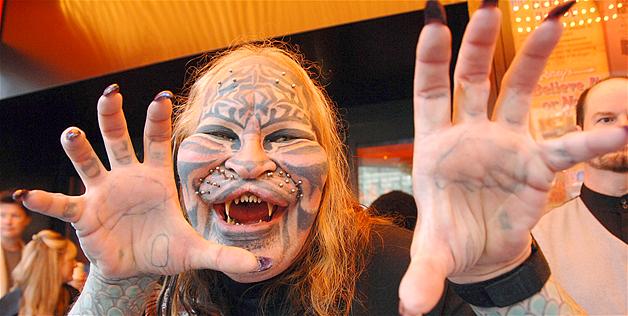 Like I said, sometimes you just need to stumble upon something that makes you happy to be yourself… warts and all. And Valeria Lukyanova's obsession with looking like a plastic doll is just the kind of thing that makes me very happy to be me.