It's been a hell of a week… the last thing we need is to talk about something horribly serious or depressing.
So instead I want to talk about an issue that is somewhat humorous but also important… pooping.
I wrote about the importance of pooping on a regular schedule in my "Everybody poops" post last year, and recently I learned how you poop is important as how often you poop.
As it turns out, humans have been squatting to poop for thousands of years…
But over the past few hundred years we've been sitting to poop thanks to the modern miracle that is the Western toilet…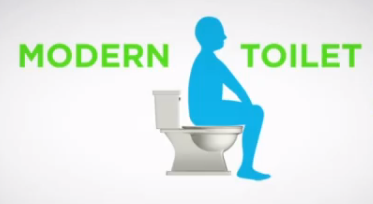 The other thing that has changed since we've started using Western toilets is that we now have many problems with our digestive systems… colitis, IBS, colon cancer, constipation, hemmorhoids, etc.
As a result, some medical professionals and researchers now believe that how we poop—and that fact that we sit rather than squat—is what's behind all these problems. Apparently when we squat our colon straightens completely, making it easier to poop, but when we sit on a toilet to poop, the colon is still a little bent. Straightening the colon supposedly makes it easier to poop, so some experts think that's what we should do. (See the above video that explains all of this in very simple graphic terms.)
There's even a new product called the "The Squatty Potty" that's designed to help us "squat" while we sit on our toilets. The Squatty Potty is basically a footstool that allows the body to re-create the suqatting posture iwthout actually doing the hard work of squatting. (God forbid we do any hard work to improve our heath.)
I'm not sure it's worth the fifty bucks the squatty potty costs when you could put a handful of thick books in front of your toilet to the same effect, but I do think this squatting thing makes sense.
The toilet in my bathroom sits directly across from my bathtub—about two feet away. As a result, I often put my feet up on the edge of the tub while I'm "using the facilities." And I've noticed that when I'm on the road—in a hotel—where there is nowhere to put my feet up, I have a lot more trouble getting the job done. I find it so hard sometimes that I sometimes drag over the hotel trash can to put my feet up, re-creating my home bathroom experience and the squatty potty. I've been doing this for about four years now but just thought it was a personal choice. But now I'm starting to really believe that squatting—or something like it—might actually help me poop.
I'm not saying everyone should run out and buy a squatty potty, but I am saying that we need to ask ourselves why we're not pooping the same way humans have been doing it since before man invented fire.