My thighs have always been acquainted with one another.
And I've never had that enviable triangle of negative space between them.
Even when I was at my thinnest, a result of an incredible amount of stress and a mystery ailment that was making me faint all the time, my thighs still touched. The fact that they touched didn't bother me; the chafing that resulted did.
It bothered me not only because it was physically painful, but also because I seemed to be the only person on the entire planet with the problem. No one mentioned having the same issue, so I never said anything about it to anyone.
Ever.
I didn't even talk about it with my husband. When we eloped, one of the first things we had to do was pick up a rental car and go downtown to apply for our marriage license.
In New Orleans.
In July.
Of course, we had to park several blocks away. Of course I wore a skirt. So while we were heading toward our beautiful future, my legs began to rub together, creating heat and friction that made it unbearable to walk after about a block and a half.
I tried to conceal this by hanging back, walking quietly behind my future husband with the wide stance of a sumo wrestler, immediately returning to my normal, painful walk whenever he looked back.
I mean, yeah, we were about to commit our lives to each other, but I didn't feel like we were quite at the, "let me explain what happens to my thighs in the summer heat" level.
So much of our societal fixation on dieting has to do with being embarrassed about our bodies. Why was I embarrassed that my thighs rubbed together? Because I'd never heard anyone talk about it before.
So imagine my surprise and elation when, in the eighth episode of Girls, Jemima Kirke's character breezes through the door of an apartment and plops herself on the couch, kicking her heels up to the sky. "Oh my God, my thighs are really rubbing together like nobody's business. It's like they're red, and raw, and burning hot," she says, adding, "I just wish I had a wheelchair for June and July."
I was shocked to see this dialogue coming from a character who I consider to be thin, and one who is incredibly desirable as well.
Then, when I was channel surfing later in the week, I caught Christina Hendricks (pictured above) on Inside the Actor's Studio responding to part of James Lipton's questionnaire: What is your least favorite word? With a cheeky little smile, the actress known for her curves said, "Chafe."
That inspired me to do a little Googling on the subject, and I was quite surprised to find other women in the same boat. "Girl, that's what thighs DO," someone commented.
When I was younger, I used to think that body acceptance came with age. I'm not quite sure why. Maybe it's because the idea of being comfortable in my own skin as a teenager was a goal too far out of reach. Maybe it seemed more achievable in the distant future. But now I think being comfortable in your own skin has more to do with scope.
Since 2009, I've buried my father, graduated from college, moved cross-country, and started a marriage. To worry about the size or shape of my body in the face of all of that seems trivial.
So I have stopped believing that I can starve or tone my body into submission. I have stopped believing that doing so is "self-improvement." (Although, I will admit, I still have the occasional dressing room meltdown.)
Instead, I am working on accepting my body for what it is, and enjoying it for what it can do . . .
I am five feet tall. My tree pose in yoga class is solid. I have green eyes. I can swim a pretty fast backstroke. My thighs are always touching.
And so, too, are the thighs of a lot of other amazing women.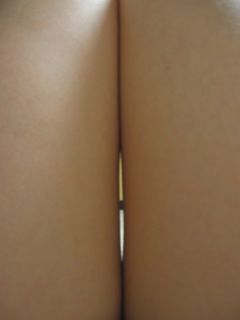 EMILY THRELKELD is a freelance writer living in Raleigh. The picture above shows the most space that has ever been between her thighs. Her husband loves her anyway and says that he totally knew what was going on in New Orleans.