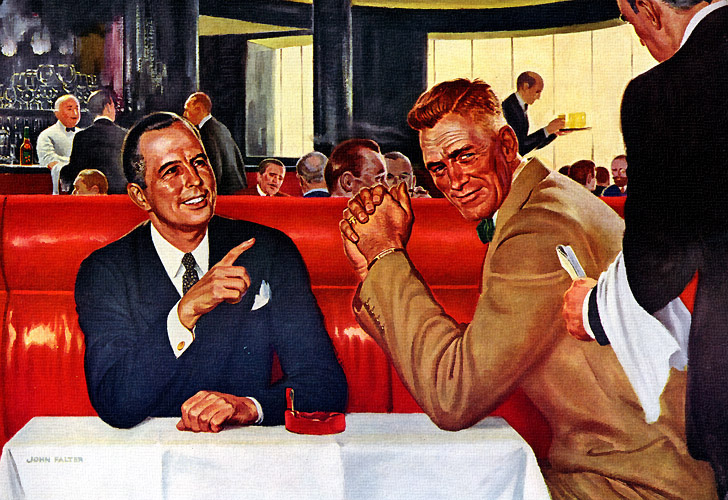 Now that I'm not eating in front of the TV and the computer screen anymore, I'm more aware of how satisfying—physically and emotionally—it can be to sit and enjoy a meal without all those distractions.
And realizing this has made me also wonder about how we eat lunch in America.
Correct me if I'm wrong, but my sense is that most people squeeze in lunch between other obligations—be they about work or family. I imagine that it's not unusual for most Americans to eat either fast food or a frozen "dinner" for lunch. And I bet most of us do it either while working—often at a computer—or tending to children.
Which makes me also wonder if we would be healthier if we took the time to sit down and enjoy a real meal at lunch instead of rushing through it like something that's a chore.
Fifty years ago, most working people got paid one-hour lunch breaks during their eight-hour workdays. But these days that kind of luxury is pretty rare. Instead, people with nine-to-five jobs often feel like they HAVE to eat at their desk—while working—instead of taking time off to leave their cubicle or office to do it.
Another thing that was different fifty years ago was that the obesity rate wasn't nearly as high among Americans as it is now.
Is it possible these two things are related?
If Americans took more time to eat a slow, leisurely lunch away from the stresses of daily life, would we all be healthier? And thinner?
We already know this is true of dinner. Americans have gotten bigger over the past twenty years becuase they're too tired to cook dinner and it's too easy to pick up fast food or Chinese carryout or order pizza delivery.
But we haven't really talked that much about lunch and the fact that one thing we've lost in our society over the past half a century is the institutionalized lunch break. The more I think about it, the more confident I feel that if we brought back the paid one-hour lunch break, we'd all be healthier and happier. And maybe we'd have more energy at the end of the day to cook a real meal when we got home.