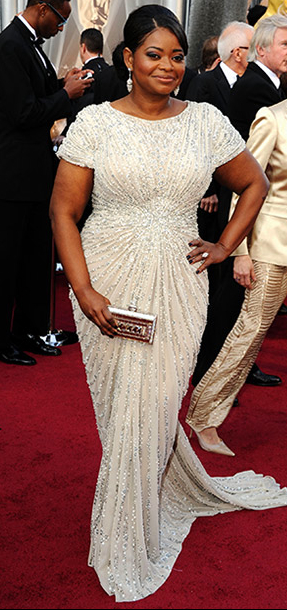 In my post-Oscar wrap-up two years ago—called "Where are all the curvy white women?"—I wrote about how it often seems like only women of color are allowed to be curvy in Hollywood. That year Mo'Nique had won an Oscar for Precious and eight women of color—JLo, Mo'Nique, Gabby Sidibe, Queen Latifah, Mariah Carey, Zoe Saldana, JLo, Penelope Cruz, and Cameron Diaz—had walked the red carpet.
But all but two of the twenty "white" women on the red carpet that year were super thin, and both of them—Meryl Streep and Sigourney Weaver—would qualify for the senior discount at the multiplex, making their "curvy" designation much less impressive.
The message was clear—white women are not allowed to be curvy in Hollywood, as if curves are somehow tied to race and ethnicity, which, believe me, they're not.
And then last year, things just got worse. I wrote then—in my post called "2011 Oscars: Playboy Barbie edition"—about how there were ONLY THREE women of color (Halle Berry, Jennifer Hudson, and Penelope Cruz) and ONLY TWO curvy women (Jacki Weaver and Penelop Cruz) on the red carpet that year. (At that time, Jennifer Hudson had just lost a bunch of weight and was too thin to be called curvy.)
I had thought it was bad enough the year before when there were no white curvy women on the red carpet under the age of sixty, but at least that year there were NINE curvy women total. But 2011 saw the red carpet sink to new lows, and at that time, I wrote, "I can't help but wonder if we are regressing."
But, much to my surprise, this year curvy women and women of color bounced back. Believe it or not, there were no fewer than ten curvy women on the red carpet this year:
Meryl Streep, JLo, Octavia Spencer, Penelope Cruz, Maya Rudolph, Sheri Shepherd, Melissa McCarthy, Wendi McLendon-Covey, Virginia Madsen, and Julia Ormond.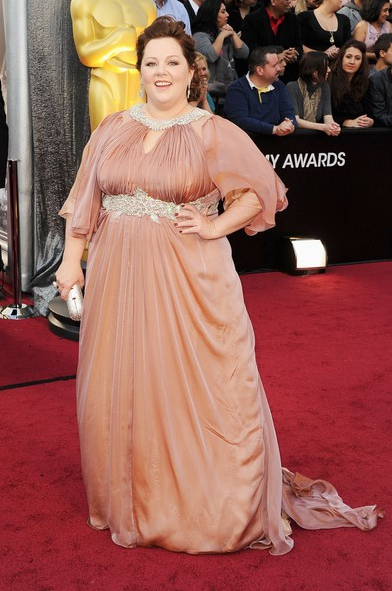 And—as I'm sure you've already figured out—FIVE of these women are considered "white." FIVE! That's a big deal, people. It means that we're finally starting to move away from the notion that white women must be super thin to make it in Hollywood.
Also good news is the fact that there were at least eight women of color on the red carpet Sunday night:
Cameron Diaz, JLo, Octavia Spencer, Penelope Cruz, Maya Rudolph, Shelia E, Sheri Shepherd, and Bérénice Bejo.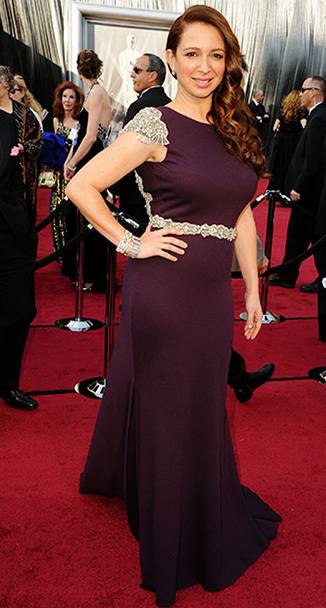 This is equally important, for it's a sign that—this year at least—Hollywood said you don't have to be blonde and thin to be one of us, and expanding the definition of the Hollywood celebrity also means expanding the definition of beauty.
Don't get me wrong—it was a horrible year for women inside the Academy Awards. There were no women nominated in the best picture, best director, and many other categories. And only one nominee in the writing category was female—Kristin Wiig and Annie Mumolo for Bridesmaids (and they obviously didn't win).
So, no, we're not at our 2010 level of gender equity when Kathryn Bigelow was the first woman to win an Oscar for best director, AND we saw many women of color and curvy women on the red carpet. But this year was certainly better than the last, which means that—like Charlie Brown getting ready to kick the football—I'm naively getting my hopes up for next year. Keep your fingers crossed that no one pulls the ball away before I kick it.
THE RED CARPET BY THE NUMBERS:
2012 Oscars . . . Curvy women: 10 / Women of color: 8
2011 Oscars . . . Curvy women: 2 / Women of color: 3
2010 Oscars . . . Curvy women: 9 / Women of color: 8