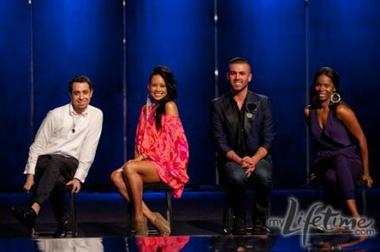 SPOILER ALERT! ***If you have not seen the season finale of Project Runway, do not continue reading! ***
I just finished watching the Project Runway season finale, and I find myself feeling more than a little disappointed in the show's outcome and generally disgusted with the human tendency toward superficiality.
Don't get me wrong—I'm not one of those people who blames reality show producers for manipulating the outcome of events (I'm talking to you, Tom and Lorenzo), but I do believe manipulation occurred. I just don't believe it was conscious manipulation.
And that's because I believe the judges—and possibly the producers—were unconsciously manipulated by the winner's looks.
If you don't watch the show, I should mention that the woman, Anya Ayoung-Chee, who won Project Runway tonight is jaw-droppingly gorgeous. (She's the one in the pink dress above.) Her smile is infectious, her hair voluminous, and her body flawless. She is quite simply radiant. She's so beautiful in fact that she's a former beauty queen. Adding to hear mystique is the fact that she's even had a sex tape released on the internet.
And from week one of this season on Project Runway, the judges have been fawning all over her, like a pack of nerds trying to get a peak at Molly Ringwald's underwear.
In fact, they are so taken with Anya that whenever she is in danger of losing, they come to her rescue.
A few weeks ago, when Anya was in danger of being sent home, the designers were miraculously allowed to create a second look to complement their first, giving Anya the opportunity to save a sinking ship.
Then last week during the final elimination, Anya showed the worst looks on the runway, and the judges changed the rules–deciding not to eliminate anyone and sending them all to the finale.
And then finally, tonight, after weeks of Anya facing "designer's block" and showing some awful looks in the previous episode, Project Runway pulled another fast one and decided to—for what I believe was the first time ever—give all of the designers an extra $500 to buy more material. Having just been destroyed by the judges on the runway, Anya knew she had to act fast, and she whipped out a half-dozen of her signature looks–long, flowing caftans in beachy prints. In other words, the kind of garments even the most inexperienced designer could sew (and Anya has claimed from day one that she's only known how to sew for four months). The fact that she could whip them out in two days when all of the designers had been given weeks to put a collection together ought to tell you that letting Anya win tonight was about as unsportsmanlike as passing out trophies to losers.
So why did Project Runway cut Anya so many breaks? Quite simply, because she looks so good. At one point, when another contestant lost a challenge to Anya, he said something to the effect of "Did she win because of her talent or her beauty?" And as soon as he said it, I knew he was right to imply Anya had become the judges' favorite because they felt happy every time she smiled her pretty face at them. I also knew in that moment Anya would probably win the contest.
When I was young, I was painfully insecure and felt certain no one would ever find me attractive. Now that I'm older and wiser, I know that's not true. I know that, like most people, I have my attributes.
But back then I also believed that the best "man" always won, and that people were too smart to be blinded by beauty. But wisdom and experience have taught me that in reality that's often not the case. As a writer, I had once hoped that my writing would be the only criteria by which I would be evaluated, but I've stood next to enough hot young writers to know that my stories will always compete with others' good looks.
On 30 Rock, Tina Fey's Liz Lemon breaks up with a gorgeous ignoramus played by Jon Hamm because she says he lives in a "bubble" created by his beauty. She tells him that he isn't as talented or smart or successful as he thinks he is, and that people just tell him he's those things because he's so good looking. Hamm's character considers her theory briefly, but then decides he'd rather stay in the bubble than face the reality outside of it.
Age has forced me to admit that Lemon is right—some people really do live in a beauty bubble, protected by their gleaming teeth and button noses.
Anya Ayoung-Chee is one of those people. Brad Pitt is one of those people. Sarah Palin is one of those people.
No matter how much I hate to admit it, sometimes I want to be one of those people.