As I mentioned in my "Diary of a Mad Traveler" post, I was on the road for a good portion of the past month—first in Manhattan for a conference and then in Maryland to see my bio-fam and do more research for You Belong to Us, the memoir I'm writing about meeting them. And after all that, I went to Ohio for a big family wedding on my way back to Kentucky.
All of my travels gave me the chance to see many old friends and numerous family members. It was a crazy three weeks of saying hello, sharing memories, and hugging goodbye. Over and over and over.
And one of the things I learned from this intense period of visiting people is that we often use weight to compliment each other or to evaluate a person's looks. In fact, we make and hear comments all the time that connect looking good with being skinny . . .
• "You look great and SO thin!"
See the equation between looking good and being thin?
• "You look amazing. Have you lost weight?"
Translation: you must have lost weight if you look THAT good.
• "Wow, you look so skinny!"
As if being "skinny" by itself is by definition good.
• "You've lost so much weight! Good for you!"
In truth, losing weight is normally good for people, but again it's the association between losing weight and being or looking "good" that disturbs me. The message is that you weren't good—either in terms of your health or your looks—before you lost weight even if you, in fact, were.
And usually when a person receives a compliment on her/his body, the normal response is something like, "Thanks! I've lost X pounds!"
(This the physical equivalent of telling how much you paid for your new shoes when you get a compliment on them, which my mother always says is tacky.)
Implicit in these comments is the message that you can't possibly look good if you are not thin. Or—just as bad—that you must have looked awful when you were a little bit heavier (something I already wrote about in my post on backhanded compliments).
And, of course, that's a message I hate. Lots of curvy women look fabulous, and we all know that you don't have to be super skinny to be beautiful (look at my gallery of gorgeous women above if you don't believe me).
And then there's the problem of what happens to your self-esteem when you gain a few pounds if all of the compliments you receive are tied to your weight. What happens is that you become demoralized even though you don't necessarily need to be.
Compliments connected to weight aren't just a problem for curvy women.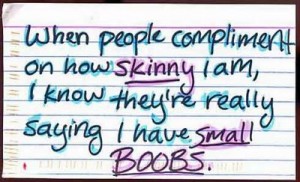 As the woman above explained on Post-Secret, telling a thin woman she's "so skinny!" can be just as problematic because often it is a coded way of saying that someone is flat-chested or not curvy enough.
The other problem with these kinds of compliments is that they reinforce the idea that we should all be obsessed with dieting and the number on the scale. And I've long believed that the unique American obsession with dieting and weight is one of the main contributors to our obesity epidemic. After all, it's not like the French—with their bread and cheese and wine—have a problem with obesity.
So from now on, I'm going to stop connecting my compliments on women's (or men's) bodies to their weight and/or weight loss, but rather connect them to something that doesn't have such a loaded meaning.
Instead of saying, "You look great! Have you lost weight?" I'm going to say things like:
"You look great! You must feel good."
"You look so happy!"
"I love that color on you!"
"What an amazing dress!"
"You look incredibly healthy!"
Almost anything will work as long as it's not about the number on the scale.
Of course, if I'm the only one to make this change, it will only affect those people I see in my daily life, so I need all of your help to reframe the way we see beauty.
So what do you think? Are you with me? Next time someone says, "You look like you've lost weight," could you be happy saying, "I feel great" rather than listing the number of pounds you've lost?