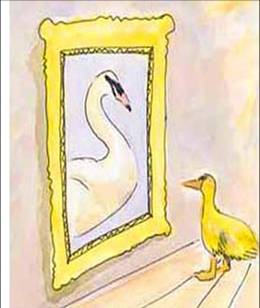 Dave and I are on a road trip right now—traveling from our home in Kentucky to California by way of many great American landmarks including Mount Rushmore, Little Bighorn, Yellowstone National Park, Devil's Tower, and many more. (If you're interested, you can follow our progress on our Tumblr blog, Across the Great Divide.)
Since I'll be away for a few weeks and have limited internet access, I'm going to run a series of short travel posts during this time rather than writing regular-length entries.
Here's my first travel post, which I'm calling "Do you see yourself as an ugly duckling or a beautiful swan". . .
I had an epiphany pretty quickly after we left home. At the end of the first day, Dave and I stopped in Kansas City, Missouri, to have dinner with my very first best friend, Ruthie. Ruthie and I were BFFs when we were very young—from around the age of three to around the age of eight, give or take a year or two. We were pretty tight, so much so that Ruthie once gave me chicken pox and when she told me she was moving to Kansas City after second grade, I cried for two whole weeks.
Since we were so close, it's no surprise Ruthie remembered many fun stories about me. But one particular memory of hers made me question how I see myself.
Ruthie reminded me about the time I had appeared in a school play—probably in kindergarten—as the ugly duckling.
I had forgotten about this experience, but as soon as Ruthie mentioned it, the whole thing came back to me: as the ugly duckling I stood at the front of the stage with my back to the audience and wagged my fluffy duck tail at all of them. According to Ruthie, I stole the show, sending the whole audience into laughter—just as any five-year-old shaking her feathered butt at a room full of people would. But, to the audience's surprise, when I turned around and faced them, I had been transformed into a beautiful swan.
That's all either one of us recall about the performance, but we both also remember that I had no trouble playing the part and was an extremely confident child.
I'm still confident about almost every aspect of my identity, but on rare occasions I struggle to feel confident about my appearance, something I oddly never worried about when I was a five-year-old ugly duckling.
This makes me wonder: why have I changed so much in the past thirty-seven years and what caused that change? And, almost more importantly, what can I do to get back to that level of confidence? The kind of confidence that allowed me to shake my tail at a room full of people and let everyone call me the ugly duckling?
I wish I could go back to my adolescent self—the time when I probably became less confident—and shake my doubts out of me. But since I can't do that, I guess I'll just have to obliterate any remaining insecurities now and focus instead on shaking my fluffy tail.