PLUS Model Magazine has caused quite a controversy with their recent "Plus Size Bodies: What Is Wrong with Them Anyway?" article, which questions the size and health of most models and pushes for more plus-size ones. As one of their pictorials points out, "Most runway models meet the Body Mass Index physical criteria for anorexia."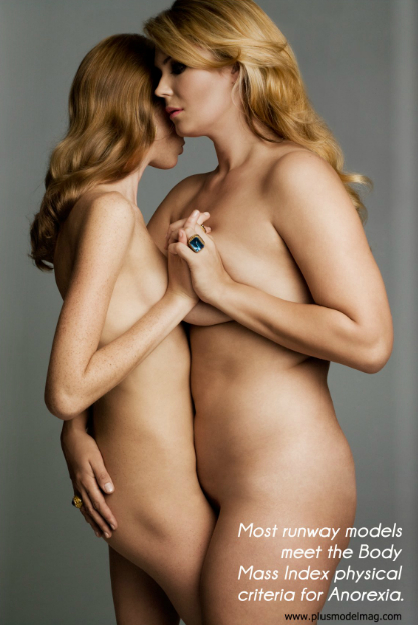 PLUS Model also claims "50% of women wear a size 14 or larger, but most standard clothing outlets cater to sizes 14 or smaller" and argues we need more a greater variety of sizes in retail stores as well.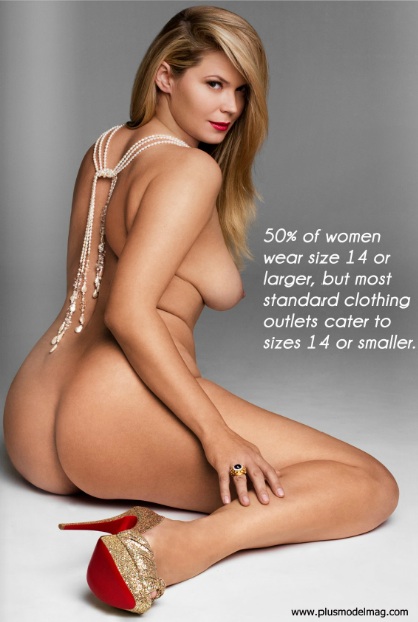 PLUS Model's editor-in-chief explains that her magazine is "a response to a fashion and beauty industry which continues to endorse a skinny ideal that is not always healthy and alienates a huge percentage of the market."
Of course, the response to this story has been mixed.
Some people are thrilled about Plus Model Magazine, insisting it's about time we show women in magazines who look more like the average American woman (a size twelve or fourteen depending on who you ask).
Salon admits "there can be no denying that the standards for beauty have drastically changed over the past several years. As Americans have been getting bigger, our lingerie models have been going on wackadoo 'no solids' diets to attain runway perfection. Thanks to the magic of photo editing technology, already slender models can be whittled down to near nonexistence."
Still, others argue that showing size-fourteen women is endorsing obesity.
I've had the same kinds of comments on I Will Not Diet ever since I created this blog.
But it's a false dilemma to say or imply that we have to choose between anorexic or obese models.
Most women who wear a size fourteen are not obese. I started wearing a size fourteen when I was in college. That was when I weighed 150 pounds; since I'm five-foot-six, that made my BMI 24, which is well within the normal range.
But I've always had big bones (my wrist is 6 ¾ inches), so I wear bigger clothes than most people who are the same weight as me. Some people think that saying you're "big-boned" is just a euphemism for being overweight or "fat," but it's really not.
There are numerous thin people who have big bones (examples include Sandra Bullock, Kate Winslet and Nathan Fillion), and there are plenty of overweight people who have small bones (but I won't name them here since doing so would only be cruel).
(If you want to find out if you're big boned or not, here's a simple way to do it—wrap your right thumb and longest finger around your left wrist. If your thumb and forefinger overlap, you have small bones; if they just touch, you have medium bones; and if they don't touch at all, you have big bones. You can also use this chart or this calculator to determine if you have big bones. To read more about the big-boned-equals-fat misconception, go here and here and here.)
And big-boned women aren't the only non-obese women who require a size fourteen. Tall women are another great example. I have several friends in the five-foot-ten to six-foot range and nearly all of them wear a size fourteen even though they are lithe and nowhere near obese.
I could go on, but you get the idea.
The point is that featuring women who are a size fourteen is not about endorsing obesity, its about endorsing variety, which is all but absent from the women we see everyday in our magazines, television shows, and films. As Plus Model Magazine points out, "Twenty years ago the average fashion model weighed 8% less than the average woman. Today, she weighs 23% less."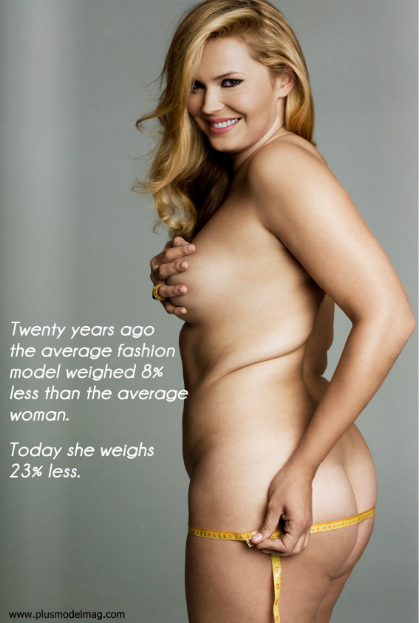 That's why, as the magazine asserts, we need to pressure retailers to stop only catering to women who are smaller than the average American women. No one is saying this needs to happen at the cost of smaller women, but rather that we need models, clothes, advertising, and entertainment that reflects what a wonderfully diverse world we really are.