THANKSGIVING EVERYBODY.
IT'S TURKEY DAY, MASHED POTATO DAY, CRANBERRY DAY.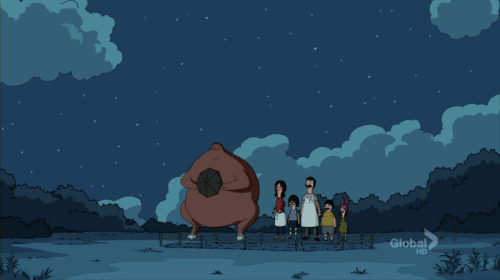 Yeah! Get excited everybody!
But first, let's all take a moment to acknowledge that Thanksgiving is kind of a thankless holiday. (See what I did there?) Oh, sure, it's a pleasant enough diversion between Halloween and Christmas, but it's not really a top-tier holiday. Everybody's happy to get a couple of days off work/school/whatever, but you don't drive around the neighborhood looking at everybody's Thanksgiving decorations, you know?
But why? What's so wrong about Thanksgiving? It's a cool holiday where you meet up with your family and eat a bunch of food and everybody talks about how thankful they are for each other. It's adorable.
In theory, anyway. In practice you probably spend most of Thanksgiving trying to avoid that racist uncle that keeps telling everyone about how white people "saved" the Native Americans.
But one of the most surreal things about Thanksgiving for me has always been seeing three generations of women, all worrying about their weight.
Now, it may or may not surprise you to learn that I come from a family of beautiful, sexy ladies. And yet, every year these hawt pieces of booty talk about their diets, or their weight gain, or tell each other, "You look so thin!"
And my basic point here is that recently my grandmother was worried that she was putting on some weight.
My grandmother. Who is ninety-five.
Like, I would hope that around age eighty—at the latest—is when you could finally stop worrying about your weight.
And I would hope that Thanksgiving, a holiday based almost entirely around food, would be the day that you could put aside your weight woes and just tell society to take their rules and expectations and stuff it.
My point here, I guess, is that now is not the time. Thanksgiving is the one day a year when  you're basically given a free pass to eat what you want, so why not embrace it? It's a day to stop worrying about whether you have a trim little tummy or slim little hips, and to, instead, embrace the things you do have, like a great butt and some great food and a bunch of great people to share it with (the food, not the butt).
So I am urging everyone out there to not do that thing where you starve yourself through the week before Thanksgiving so that you're "allowed" to eat what you want. You're a human being! You're allowed to eat food! Get pumped about the stuffing and turkey and pies and cakes; get pumped about seeing the people you love (and the ones you…tolerate).
And please, Lord, do NOT talk about your diet. For once, it's not the time for dieting. It's the time for that sweet, sweet turkey.
And, during this penultimate blog post, I'd just like to say that I am extremely thankful for all the people out there reading this blog that I'm doing. You guys rock.
–Rachel