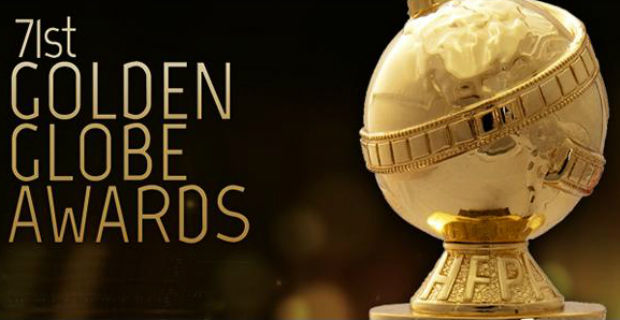 The Golden Globes were last Sunday night, and though there were a few disappointments, it was mostly a great night for women (a fact one NY Post reporter actually had the hutzpah to complain about).
THE HIGHLIGHTS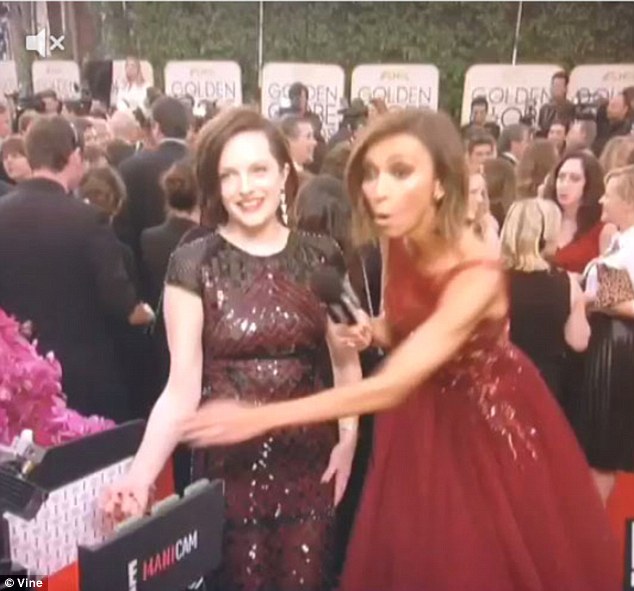 On the red carpet, one of the stars of Mad Men summed up how we all feel about the head-to-toe scrutiny of women when Elisabeth Moss flipped off their ridiculous E! mani-cam. Thank you, Elizabeth, for doing what we all want to do on the red carpet. Lord knows how many times I've flipped off the mani-cam and the glam-o-strator and the 360 degree room and whatever other bullshit they come up with to reduce women to their looks. And, wow, was it fun to see Giuliana Rancic freak out like that.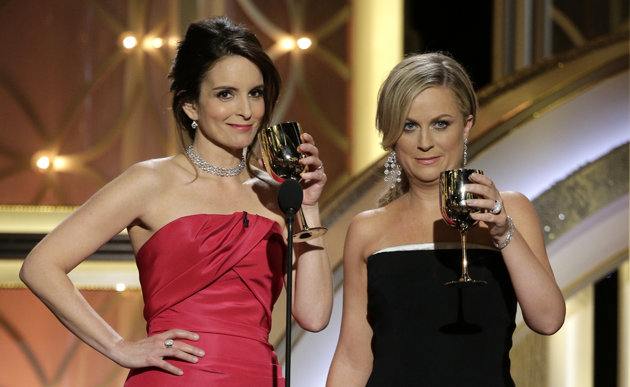 During the ceremony, Tina Fey and Amy Poehler KILLED it with an outrageously funny opening "monologue" and other hilarious bits throughout the evening including a great rejoinder to the inherent sexism of "Miss Golden Globe" by pretending Fey had an illegitmate son who was the night's "Mr. Golden Globe."
They didn't shy away from women's body issues either, explaining that "For The Dallas Buyers Club, Matthew McConaughey lost forty pounds. Or what actresses call being in a movie" and encouraging the men to "kick off your shoes, try on the ladies', and see how awful they are."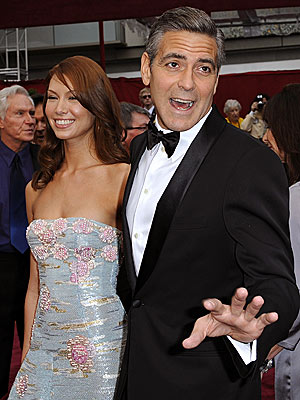 Men who date younger women got BURNED when Tina and Amy introduce Gravity as "the story of how George Clooney would rather float away and die than spend one more minute with a woman his age."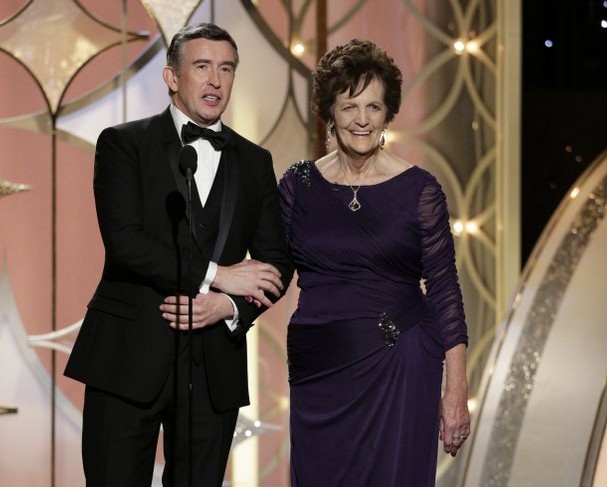 Philomena Lee stood up for solidarity among women, saying that the movie based on her life is "not just about me; it is about all the women who have still not gotten justice."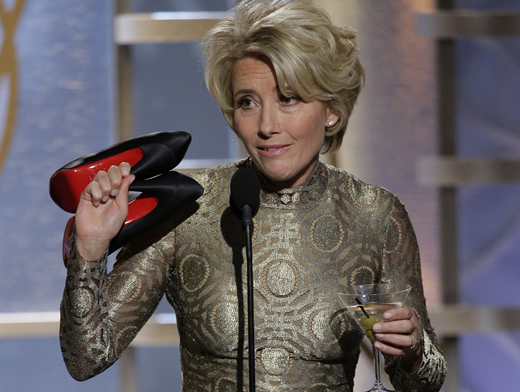 Emma Thompson showed us what it means to be a strong woman in Hollywood when she came out to present an award carrying her high heels in one hand and a martini in another. "That red you see is my blood," Thompson said as she held up her shoes, eventually chucking them behind her.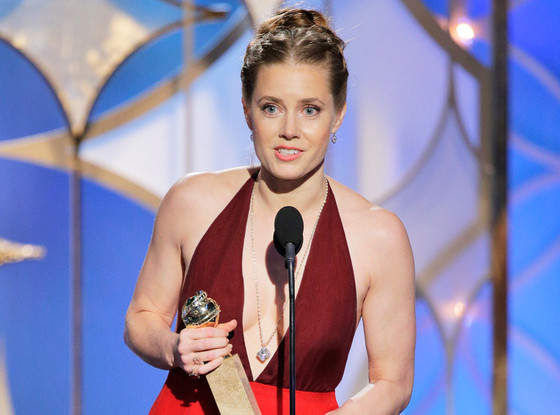 Several winners called attention to how much their mothers helped them, including Amy Adams and Matthew McConaughey.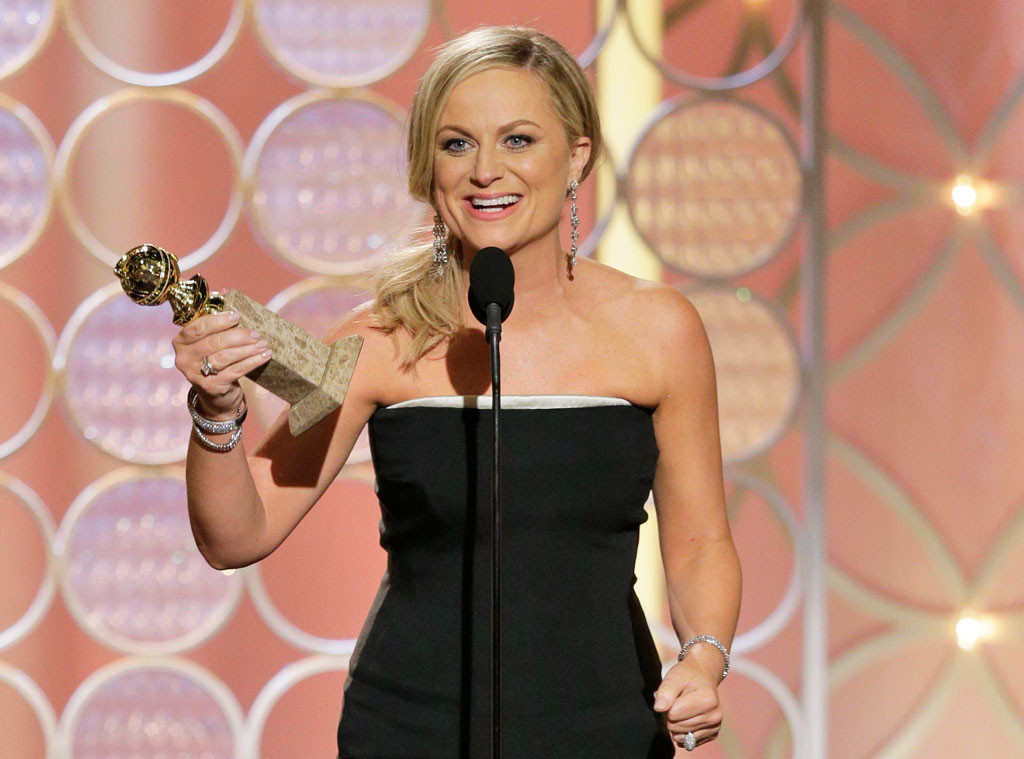 Amy Poehler won best actress in a television comedy for playing feminist Leslie Knope on Parks & Rec! As one of my friends said, I don't know who to love more—Amy Poehler or Leslie Knope—because both are such wonderful role models for women.
Amy Poehler made out with Bono after her name was called, finally getting revenge for what Adrian Brody did to Halle Berry at the 2002 Oscars.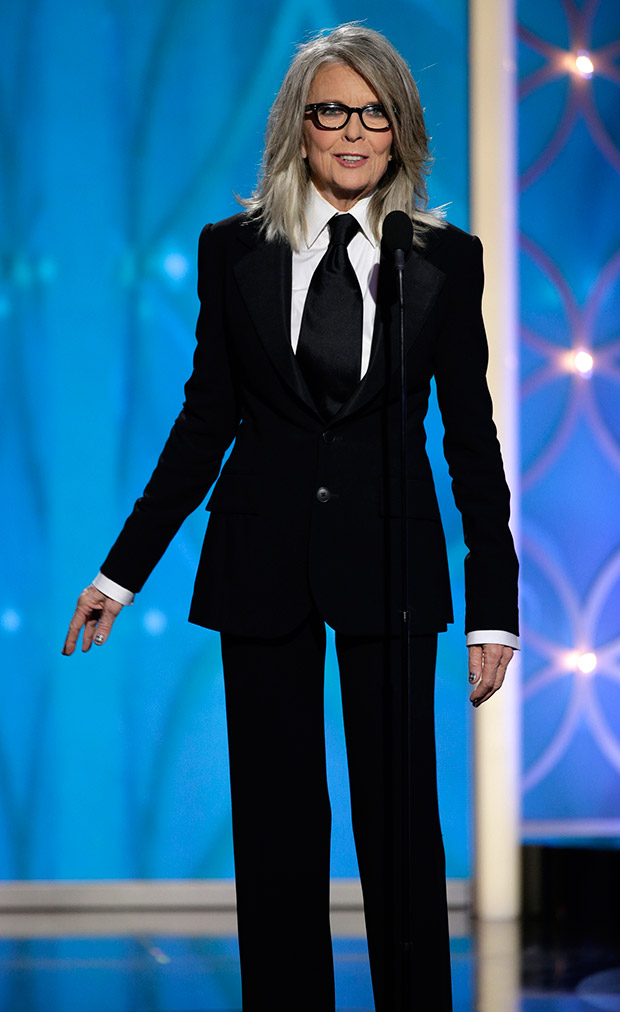 Diane Keaton continued to challenge gender roles 37 years after she first did it in Annie Hall by wearing a men's suit to accept the honorary Globe for Woody Allen.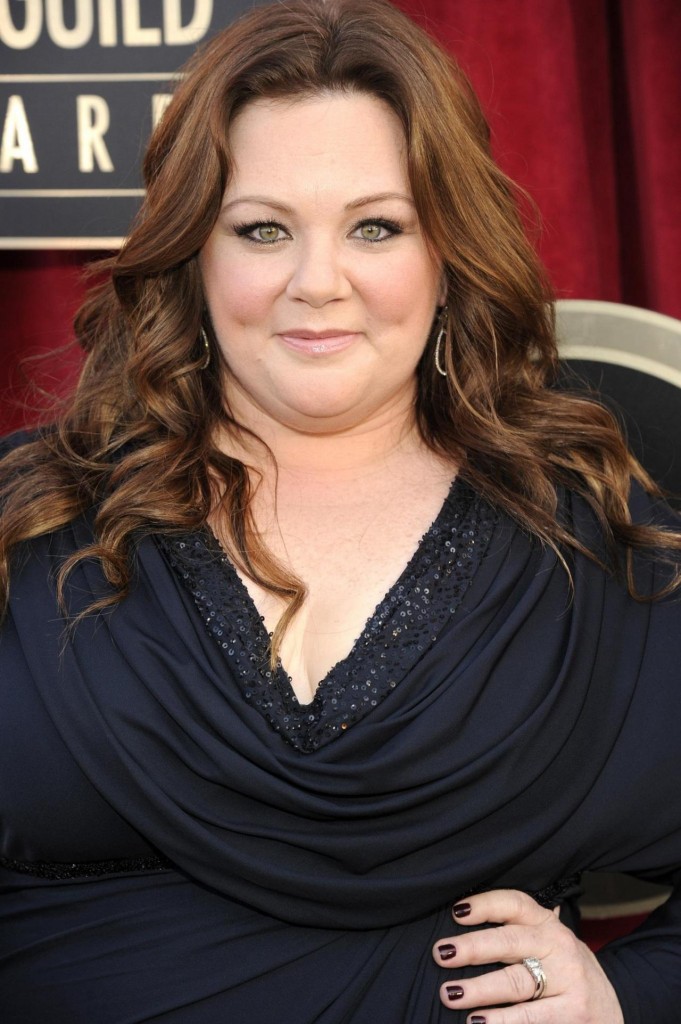 Melissa McCarthy presented an award, and no one made any jokes about her body. It's the small things, isn't it?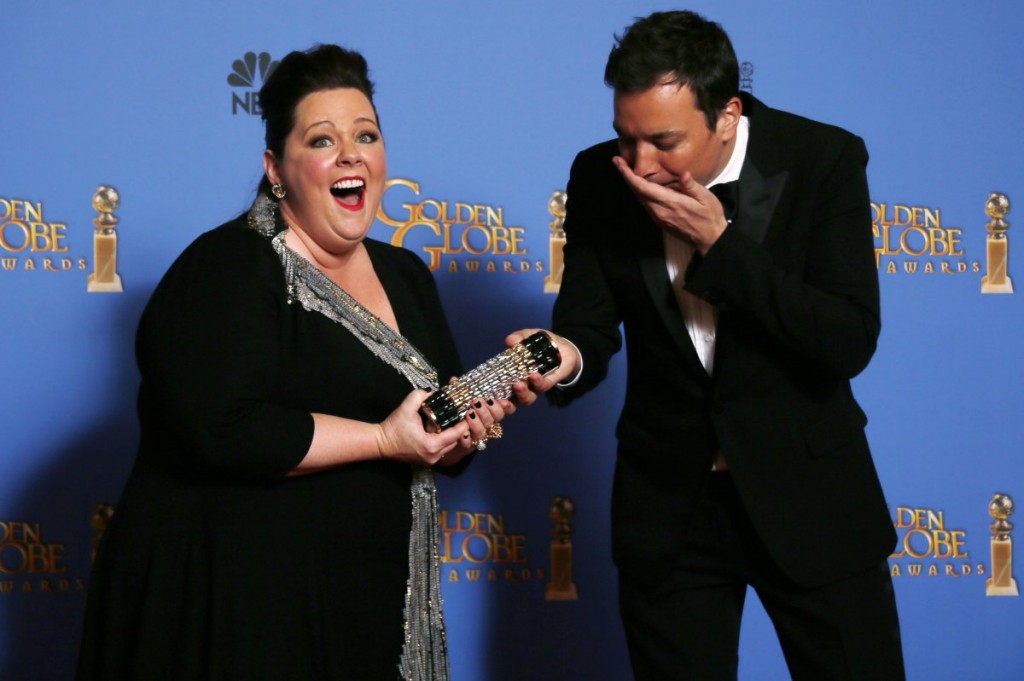 Jimmy Fallon and Melissa McCarthy had phenomenal chemistry, making me believe they could star in a rom com together about a skinny dude and a bigger woman. Come on, Hollywood, make it happen!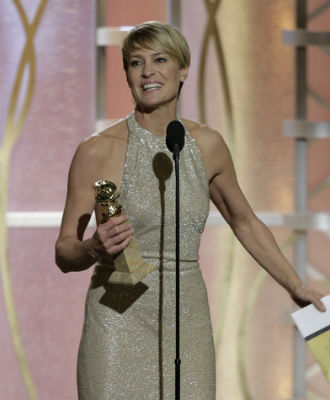 Robin Wright ran to the stage in her giant heels, proving that women can do anything, and despite what Meryl Streep's character said in August: Osage County, Wright canoodled with fiance Ben Foster, showing that women really DO get better with age.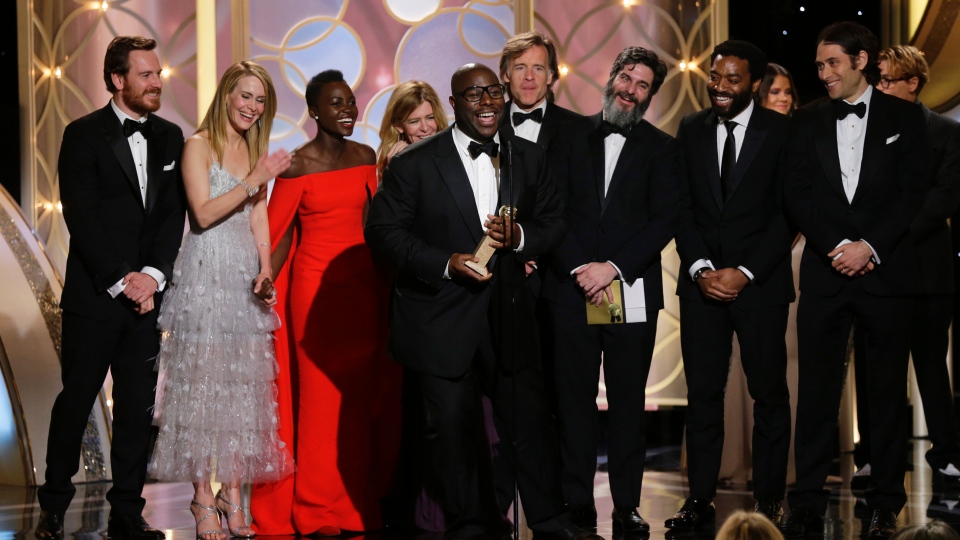 Okay, I admit this one isn't related to gender or body issues, but I also loved it when, in a moment of rare Hollywood camraderie, the cast/crew of 12 Years a Slave helped director Steve McQueen remember who to thank when he won Best Dramatic Motion Picture.
*
THE DISAPPOINTMENTS
In addition to all the normal annoyance on the Red Carpet (including the aforementioned mani-cam, glam-o-strator, and 360-degree camera), a new tradition was introduced in which entertainment reporters repeatedly asked celebrities how much their jewels were worth, highlighting how out of touch Americans are with the state of the world.
Parks & Rec, one of the smartest television shows about a strong woman EVER, lost the Golden Globe for Best Television Comedy to Brooklyn Nine-Nine. Really, Hollywood Foreign Press? Really????!!!!!!
Diane Keaton made us cringe by reducing the female actresses in Woody Allen's film to "Woody's Women" and then desecrating A GIRL SCOUTS' SONG ABOUT FEMALE FRIENDSHIP by singing it in tribute to Allen.
And possibly most important of all, the Hollywood Foreign Press ignored all of the amazing movies made by women this year. In fact, not one woman was nominated for Best Director or Best Screenplay even though 2013 brought us excellent films written and directed by Nicole Holofcener, Lake Bell, Greta Gerwig, Sarah Polley, Sofia Coppola, Julie Delpy, and many more.