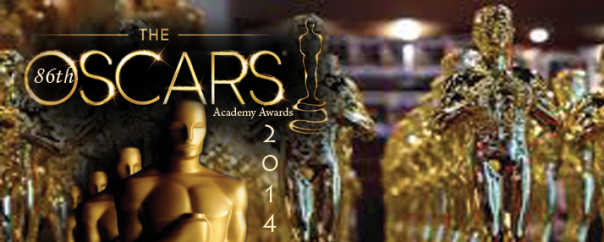 The Academy Awards start in two hours (on ABC), and the E! pre-show starts any minute.
My DVR is set to record! I've got my evening cleared of obligations! I'm ready!
But as much as I love oohing and aahing over everyone's looks on the Red Carpet, I hate the tools of objectification that come with it—the GlamCam, the Mani-Cam, the Glam-O-Strator, the 360-degree Room, and all the other we're-judging-you bullshit.
(E! is even premiering a new camera tonight—the "Fashion Turn," an all-glass box that spins the actress standing in it around in a circle so we can see every detail. Puke.)
Why can't we just look at their dresses, appreciate them, and move on? Why do we have to deconstruct every stitch, every hem, every piece of bling?
Apparently I'm not alone in thinking that much of the head-to-toe critiquing that happens on the Red Carpet is overkill.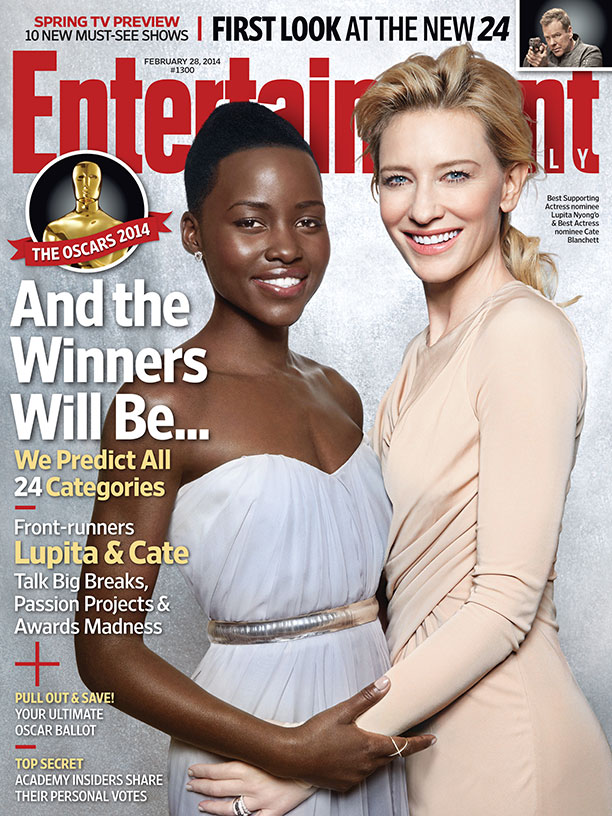 In the Entertainment Weekly's recent Oscar issue, Academy Award nominee (and former winner) Cate Blanchett (shown above with fellow nominee Lupita Nyong'o) bemoaned the way women are objectified on the Red Carpet, explaining that the reporters will actually ask her how she's doing and then PAN THE CAMERA DOWN HER BODY. Blanchett is not at all pleased by this behavior, saying "With Bradley Cooper and Ben Stiller, they keep talking to them face-to-face. Why are you talking to my shoes?"
I could not agree more.
That's why I was thrilled when Mad Men's Elisabeth Moss flipped off the Mani-Cam at the Globes this year.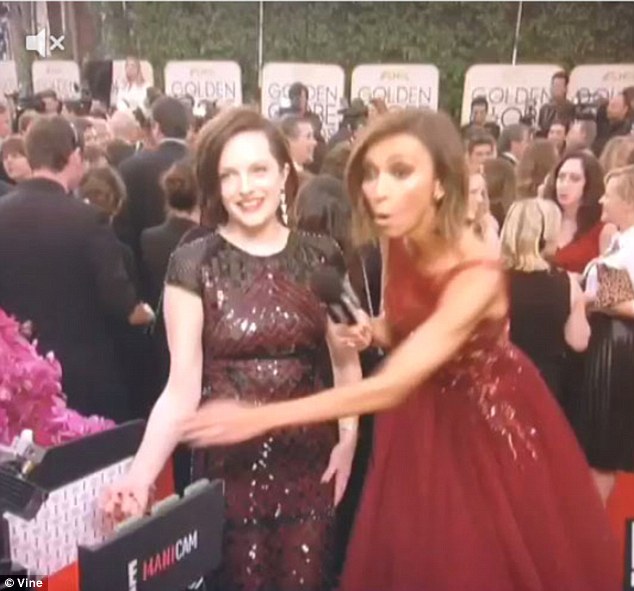 At the same time, I'm not one of those people who is willing to boycott awards' pre-shows on the grounds that the Red Carpet reduces women to their looks.
So where does that leave me and other fans of the Red Carpet who still want to resist the notion that it's acceptable to treat women like pieces of meat?
I suppose the answer is that, if we're going to keep watching (and I know I definitely am), we have to counter the constant scrutiny and objectification by critiquing the people holding the microphones in any social media venue we can find. Let them know when they suck, and praise them when they actually get it right. And hope that maybe just maybe they'll start to grow and learn.